Sea Abkhazia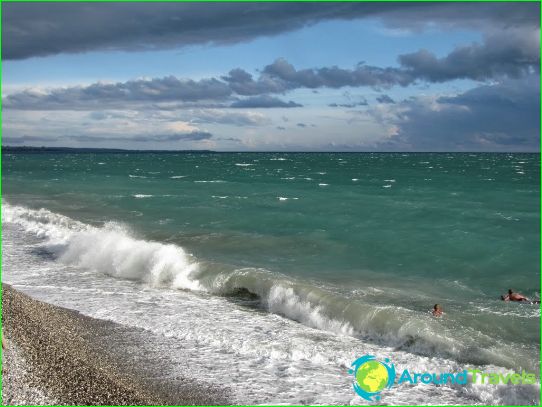 Holidays in the Republic of Abkhazia will remindtravelers respectable age of the student's vacation in his youth, when a trip to the Black Sea coast of the Caucasus was riding dreams and flying a few weeks relaxing swim one day. Today, they come here a variety of tourists, who are attracted by the sea of ​​Abkhazia and its pure mountain air, ideal climate and reasonable prices absolutely all.
When asked what the sea washes over Abkhazia, therethe only correct answer - Black. Republic is located in the north-eastern coast on the southern slopes of the Greater Caucasus Mountains. Sea Abkhazia - is more than 200 kilometers convenient and clean beaches covered with small pebbles, extending between the borders of Georgia and Russia.
About the weather and nature
On the Abkhaz beaches most of the bathingseason, sunny weather prevails. The water temperature in the Black Sea in July and August here rises to 27 degrees. The season ends only in October, when the thermometer detects that the water has cooled down to +18, although some fans of "poslebarhatnogo season" this does not stop.
Nature of Abkhazia and its Black Sea coastIt makes these so even people far from poetry. The majestic ridge of the Caucasus Mountains and coniferous forests, clean water and blooming gardens in Gagra, mountain lakes and waterfalls - all this becomes a weighty reason to come to rest exactly in Abkhazia.
What the sea in Abkhazia?
It would seem that the answer to this question is obvious -Black Sea. But romantics and gourmets can name at least a few more: the sea of ​​hospitality the locals, the best sea of ​​Caucasian wine, sea and amazing sunsets just - positivity, warmth and good mood.
Interesting Facts
The Black Sea is home to one of the species of sharks -Black Sea Cartan. Despite its direct relevance to predators, for human katran not dangerous and on record has not been a single case of an attack.
Bottlenose dolphins - another popularRepresentative of the Black Sea fauna. They live in packs and help their own people in case of danger. This instinct allows bottlenose and save people in distress at sea.
Famous Black Sea clam shell Rapanain fact - aliens among the local fauna. They got into the Black Sea through the Bosporus in the middle of the last century and destroyed almost all the stock of oysters and scallops.
Abkhazia is a country soul
Photos coast of Abkhazia