Beaches in Gagra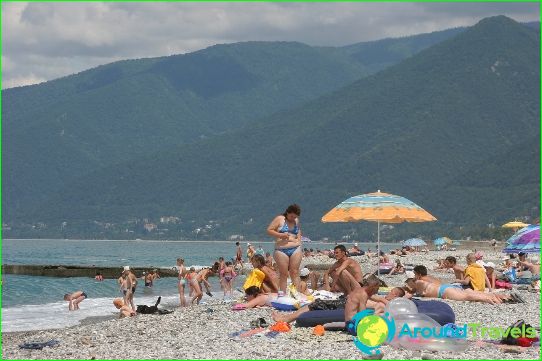 Gagra - the most popular resort town inAbkhazia, it is located in a small bay. From the cold winds to protect its mountains, they keep warm sea air. Coastline of Gagra - 53 km.
Coast in New Gagra is divided into smallpebbly beaches, but there are also some sandy areas. This type of beach is the most popular among tourists, in this regard, in the summer months there is quite crowded.
Most of the beaches are public resort, butSome coastal areas belong to hotels and resorts, the entrance to which is available to guests, but these beaches can attend everyone surcharge. Umbrellas and sun beds can be rented only on certain parts of the coast, mainly in New Gagra. The most comfortable sea temperature is set in the middle of June.
The best sandy beaches in Gagra:
1. The Beach in Old Gagra;
2. The central beach in New Gagra.
The beach in Old Gagra
Old Gagra - a historical part of the city,It has many pre-revolutionary buildings, the tourists combine a beach holiday with visits to local attractions. Holidaymakers on the beaches of Old Gagra a little, as there is almost no rides, entertainment infrastructure is poorly developed. The beach is well suited for lovers of secluded relaxation, without too much hustle and bustle. On the shores of Old Gagra there are many large and resorts, which offer a magnificent view of the sea. Adjacent to beaches sanatoria quite clean and comfortable, located close to great restaurants "Three barrels" and "Gagripsh" Brasserie "Stepan Razin". Restaurant "Gagripsh" is one of the main attractions of the city. Vegetation Old Gagra amaze with their variety and riot - there are palm trees, oleanders, cypresses.
Beach in New Gagra (central beach)
The central beach has developedinfrastructure for recreation. Nearby there are many shops, cafes, a large supermarket. People are much more than Old Gagra beaches, so the beach is sometimes messy. Beach also consists of small pebbles. On the beach there is a water park New Gagra five slides, tourists are offered a variety of water attractions. Near the beach there is a stadium, tennis courts and park. Beaches in New Gagra is very noisy, so more suitable for young people. Families with children is better to settle away from the busy main beach establishments. Between the beaches of the Old and New Gagra there is a beautiful place, Gagripsh area, which also connects the two beaches.
Because of the wars that took place in 1993, many parts of this small country were affected, but the resort town of Gagra fully restored for leisure travelers.
Photos beaches in Gagra