Rest in Gagra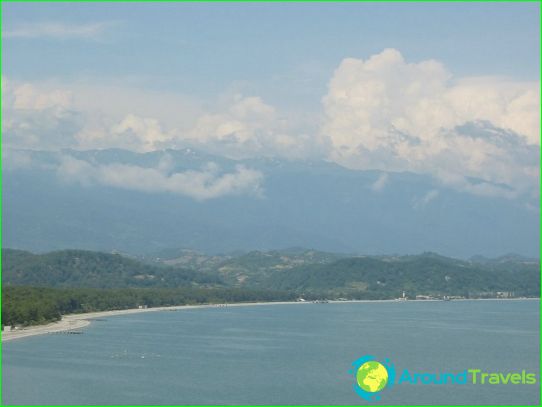 Rest in Gagra - Abkhazian resort, prefer active, young, elderly people, couples with children, all of them attracted by the sea, the local beauty, kitchen, ideal conditions for treatment.
The main types of rest in Gagra
Sightseeing: as part of tour programs you will be able to stroll through Seaside park, to see the Prince of Oldenburg Castle, the fortress Abaata, Colonnade. It is worth noting that for those who can organize a trip to Lake Riza, Blue Lake, Gegsky waterfall.
Beach: If desired, you can relax on the wide and extensive sand and gravel beaches. Beaches Old Gagra (small, medium and large pebbles) are very popular among lovers of secluded relaxation - there is virtually no attractions. But on the beaches of New Gagra (gravel with sandy strip) is always crowded and noisy, and all thanks to the available water attractions here, tennis courts, park, cafe and the possibility to rent deck chairs, umbrellas and boats.
Active: active-minded tourists will be able to go diving, ride jet skis or banana, have fun in the water park, tennis, paragliding, Abkhaz enjoy nature, horse riding. For those wishing to organize rafting tours on the river Bzyb (you can admire the beautiful places in the valley of the mountain river). In such a tour may even beginners who do not have to go worrying about the possible risks, because they will be accompanied by an experienced instructor.
Treatment: in local health centers and health facilities are treated with heliotherapy and climatotherapy, thalassotherapy, balneotherapy, aerophytotherapy. Doctors recommend to go here suffering from skin, respiratory diseases, nervous, musculoskeletal, circulatory, and gynecological patients.
prices
The level of prices for tours to Gagra depends on the season. travel agencies managers advise their clients to go to Gagra in June-September, when at a resort in the midst of the high season. Price notwithstanding, is not much increased, only 15-25% as compared with the low season. And you can save even more by buying a ticket to Gagra in October and April, as well as removing the housing in the private sector, taking up a booking in advance.
On a note!
Going on vacation in Gagra, in suitcaseit is advisable to put a headdress, light clothing, bathing suit. If your plans include visiting the mountain, do not forget to bring a backpack, comfortable clothes and shoes. At the resort it is advisable to take more cash, as ATMs are very small.
From Gagra should bring adjika, cottage cheese, spices, chacha, Abkhaz tea, dagger, jewelry made of shells, Abkhaz pots.
Photos of rest in Gagra