The streets of Gagra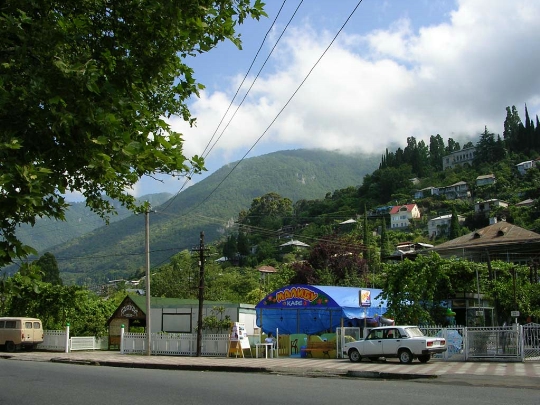 Abkhazia - a real find for travelers of allages. This region combines a rich history, unspoiled wildlife and virtually limitless opportunities for an interesting and exciting leisure activities. And especially love the tourists enjoy the famous resort of Gagra. The warm clear sea, healing springs, special local flavor and excellent cuisine - thanks to Gagra streets meet every year more and more tourists.
For those who first came to this city, and morenot had time to make a travel card, it is best to begin the study of the resort with his most famous creation. These include: Circassian Street; Ardzinba Avenue; eucalyptus alley; Embankment.
Cherkess street
This street runs through the north-eastern partcities. It begins by Ardzinba Avenue and ends at the mountain road Mamzyshhu. Part of the street occupied by low-rise homes, and besides them there are also plenty of budget hotels, cafes and restaurants.
Prospect Ardzinba
It attracts those who are looking for the famous monumentsculture and beautiful sights. Following this route, you can find the famous Abaata castle and visit the museum, which gathered the country's history, from the first contacts of Abkhazian tribes with the Russian people.
Eucalyptus alley
One of the most striking sights of the areaOld Gagra. Majestic avenue of eucalyptus planted along the main highway Gagra - Nartaa streets. This was done in the early XX century, when the eucalyptus was brought to the Caucasian Black Sea coast especially for malaria control. Eucalyptus is able to quickly absorb large amounts of moisture and evaporate it in large quantities, already saturated with volatile production, suppressing pathogens.
As experienced travelers claim the besta walk along the avenue after the rain, when in the air unmistakable aroma of eucalyptus leaves. Along the avenue there are many shops, hotels, cafes, restaurants and various places of entertainment, so tired of walking you can always find a place to rest. But the one who wants to make a memorable photo, it is better to visit the seaside park and the famous Colonnade.
Quay Gagra
Quay Street also represents a hugeinterest for tourists. More recently, authorities have invested heavily in the creation of a single entertainment complex here, so now this place is not only suitable for those who prefer a leisurely walk along the picturesque seashore, but also to fans of more active pastimes.
Photos Gagra streets