Beaches in Pitsunda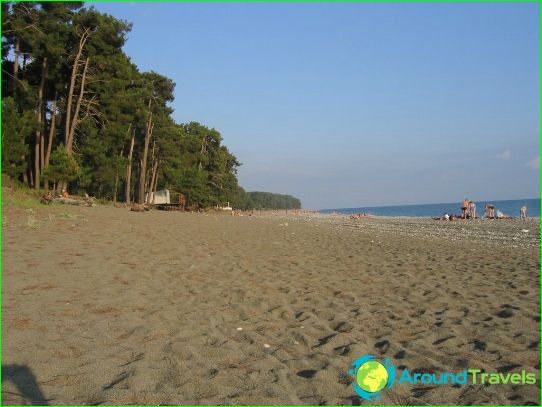 Pitsunda - it is not only the place of a beach holiday, butand is a real health resort of Abkhazia. It is just 20 km from Gagra. And this is one of the most favorite tourist destinations. In Greek Picunda means "pine". The resort gave the name Cape Pitsunda, resembling in shape is slim and high conifer. The beauty of the beaches of Pitsunda is that the holiday village is located on the shore of the bay, which do not reach large wave bearing, including, and debris. Therefore, the Black Sea water is striking in its crystal clarity. Swim and sunbathe here - it is a pleasure.
The maritime climate rages lush vegetation,which gives a dense cool shade. Under the shadow of her feel like a cave, and it is especially nice hot summer noon. Air, like water, always clean in Pitsunda, it is filled with fresh sea breezes, scents of pine forest, which stretches over an area of ​​22 hectares. This place is also a nature reserve and tourist attraction at the same time.
Pitsunda remembers Soviet times, when she was stillIt was closed resort. The fact that the party elite rushed to the beaches of Pitsunda breathe healthful air, says a lot. Now pensions along the pine grove, are open to all who wish to enjoy a great beach holiday, and improve their health. Among the resorts are the following:
"Lighthouse".
"Amzara".
"Arma".
"Colchis".
"The Golden Fleece".
"Bzyb".
"Apsny".
Since earlier stay in local guest housesIt has been possible not all, there is still practiced vacation "savage." That is, in a rented apartment. And it should be noted that the locals in this regard constitute a sufficiently large hotels Pitsunda competition. These privateers can rent a house at a reasonable price and enjoy your vacation by the sea.
Choose the best sandy beaches of Pitsunda notpossible, as they are all in their own good. They are famous not only extremely soft golden sand, which in places alternates with light pebbles, but also a high extent. Therefore, choose a place to stay there is not difficult. You just have to take a walk along the water's edge, and it will be easy to find a secluded place to relax.
Beautiful beach holiday can be combined herewith interesting excursions to local attractions. This, for example, a trip to Lake Riza, with its amazing clear turquoise water. Or a fascinating journey through the halls of New Athos cave with lots of bizarre stalactites and stalagmites, sometimes like a frozen waterfall.
Organized here and the horseback riding. Solitude on the beach can also be found in the suburbs of Pitsunda - Lidzava. Next to her, by the way, there are remarkable submerged rocks, and this place has long chosen by divers.
Photo Pitsunda beaches