Prices in Pitsunda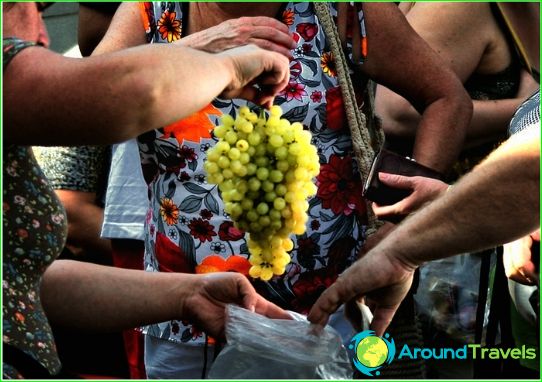 Pitsunda - a wonderful resort town,remote from Gagra to 25 km. Its main advantage - a beautiful coast, salubrious climate and good ecology. Resort Activities focused on the waterfront. There is no hustle and bustle, which makes the city an ideal place for family relaxation. Prices are quite low in Pitsunda. These tourists prefer to come from middle-income countries. In July and August the price of the tour for one person is about 1200 rubles per day.
The city occupies a small area, ithome to just over 4,000 Abkhazians. The life of the local population depends on tourism. Therefore, residents are greeted visitors warmly, trying to do everything possible to increase the flow of tourists in Pitsunda.
Questions of residence
In Pitsunda popular resorts, hotels andpensions located in the resort area "Pitsunda". Earlier, in Soviet times, it was a closed area, where they could rest only foreigners. Today, the resort Pitsunda accessible to all. The main resort area are such resorts as "Amzara", "Mayak", "Amra", "Apsny", "Golden Fleece" and others. A little to the south of town, on the territory of Myussera Reserve, located pension Musser name Lakoba.
In recent years, new Pitsundapensions and hotels. Each of them has a small but well-organized territory. Hotels equipped with the latest climatic equipment, which makes the most possible comfort. Excellent facilities for tourists are created in the club hotel "Delfin" and at the "Irene". Prices in hotels Pitsunda about the same: deluxe room is not less than 1200 rubles per day. In the off-season prices are down - stay can be for 600-900 rubles for 1 night.
In great demand among vacationers enjoy the privatesector. There you can find the lowest prices for accommodation. Private traders offering modest conditions - in the rooms there is a minimum set of necessary things. But if the questions raised comfort are not a problem for you, then a private home in Pitsunda become an excellent option. Locals rent clean rooms at affordable rates. Very often in the disposal of guests and a spacious courtyard where they can spend their free time. The most expensive housing costs during the high season. In July and August tend to come in Pitsunda many Russians. Prices fall down in early autumn, when the travelers become much smaller. Subtropical humid climate of the resort provides a long and warm summers. Therefore, a good rest is possible here until the middle of autumn.
What can you buy in Pitsunda
Resting near the sea, you will want tobuy a couple of souvenirs on the marine theme. On such products prices are very low in Pitsunda. This product made of shells, magnets, and paintings depicting the sea. Locals offer original bagatelles of clay, ceramic, wood and fabric. Abkhazians sell tasty and useful honey, herbal teas and rock, jam, wine, chacha and other products. Mountain eucalyptus honey you can buy for 800 rubles, jam from walnuts - 250 rubles, and 100 grams of tea hand-assembled - for 150 rubles.
Photo