Areas Pitsunda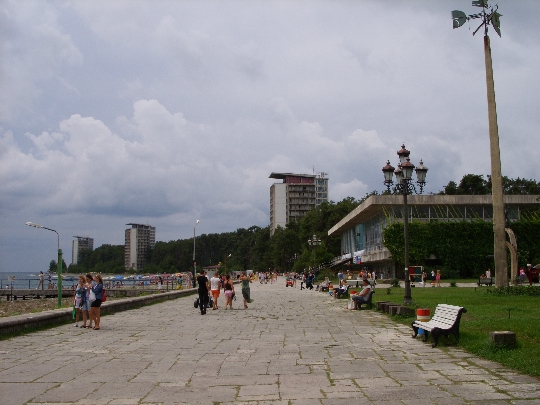 Areas Pitsunda - it is actually itself a resort and surrounding Villages.
Names and descriptions Pitsunda areas
Ldzaa: Here you can visit the house-museum "Khetsuriani" (exposure in the form of furniture, crockery, paintings, weapons, tools of agriculture, will introduce guests to the ethnography and history of peoples of Abkhazia, in the house where the museum is home to the son Khetsuriani that tells visitors about the former the host and his collection) to go to the sanctuary "Ldzaa-nykha" (place of prayer and religious practices); walk through a mini-market (here sell traditional products - chacha, honey, vegetables, cheese and wine at affordable prices), go for a walk on a chartered catamaran at a local beach or boat.
Musser: tourists will be invited to go to Myussera Reserve, which grow arbutus, Colchis boxwood, Iberian oak and other plants included in the Red Book.
After reading the tourist map,travelers can go to explore the sights of Pitsunda - Embankment (recommended to take a picture on the background of the sculpture "Divers", the day you can go on the rides, visit the cinema, and perhaps visit the music festival, and in the evening - listen to local musicians), the Museum of History Pitsunda (from interest of the exposition are the well-preserved icons, frescoes, pictures of animals found during archaeological excavations in the city Pitiunt), the Patriarchal Cathedral (today it is a concert hall, where concerts of choral and operatic singing; it is worth to admire the fresco images of saints), Historical and architectural complex "Great Pitiunt" (monuments of the ancient city in the form of dolmens, ruins of temples, barracks buildings, Roman baths and other things, are a stone wall).
Where to stay tourists
If you decide to stay in the village Ldzaa (availablesandy and pebbled beach areas; a place of rest will appreciate the relaxing pastime lovers - there are no large crowds and noisy discos, but you can improve your health, walking through a pine grove), you can rent a house in the private sector on Rybzavodskoy, the Maritime and River streets. But if you are interested in a wide range of services, you can stay in one of the modern hotels.
In your plans include a stay in a place where the main focus of entertainment? Note the placement of funds close to the embankment of Pitsunda.
If you wish, you can stay in hotels of a new type (a picturesque and small size, make use of modern technology Hotel) - Hotel "Irene" or club hotel "Delfin".
Photo Pitsunda areas