Beaches in Sukhumi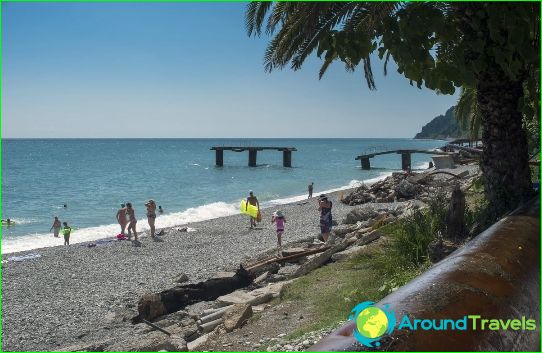 The length of the beach of Sukhumi city more than 12 kilometers. And it is not only well equipped but also of the "wild" beaches. Beaches in Sukhumi: let them walk.
Beach "Sinop"
It is located in the western part of the city andIt is the most visited place. Extent of a beach - 2 km, and width is quite impressive - 50 meters. This beach area is ideal for a relaxing holiday with the whole family. Fine clean sand and gentle slope like little visitors.
Beach excellent infrastructure. Here you can take in the beach chair and umbrella rentals. Who can rent an inflatable mattress. It provides beach showers, where you can wash off the sea salt, place changing. Kids like trampolines, and adults if they wish can spend time with a game of beach volleyball or visit the café. The entrance is free.
Central beach
The second name of this place - "city beach". It is located in the city center. Wide space, covered with pebbles, is the most comfortable for a good rest. On the beach a lot of breakwaters, which do not allow to climb big waves. Here you can rent a catamaran, go on water rides or just pop in a local cafe. The entrance is free.
Beach "Gumista"
This beach area is located in a suburb of Sukhumi. It really is a true "wild" beach, covered with sand and pebble mixture. Therefore, if you are fond of sunbathing virtually alone, it is the perfect place.
Beach "Aitarou"
Beach area is located in the west of Sukhumi, near the eponymous guesthouse. This is a free beach, covered with natural sea pebbles. There are not too crowded.
Beach "Lighthouse"
It is located in the north of the city, in fourkm from its center. It will appeal to those who like to feel under their feet warm hot sun pebbles. The beach infrastructure is well developed. And another huge "plus" in the treasury of the beach - dolphins that often swim in its waters.
Beach "Kyalasur"
Beach area is located in a suburb of Sukhumi,Kodorsskoy stretching along the highway. There are no modern facilities in the form of hire loungers and umbrellas for protection from the sun, but very clean and clear sea. Holidaymakers on the beach this is not too much. You can get here by public transport.
Agudzersky beach
Located near the beach, Sinop. The small space of sand and pebble beach, which is just a kilometer length, equipped with places where visitors dress up as needed. There is also a café where you eat tasty feed.
Photos Sukhumi beaches