Sokhumi Streets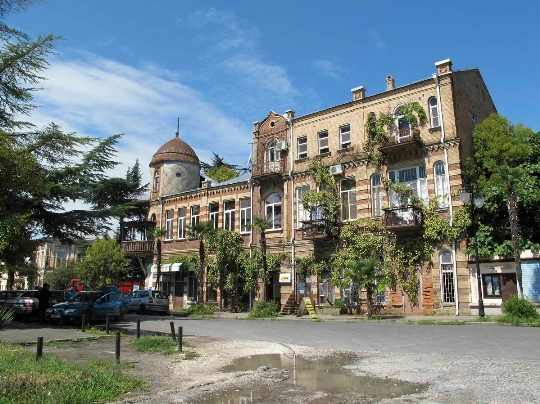 Solar capital of Abkhazia Sokhumi is. He was removed from the Russian border 100 km. This city has always attracted tourists from Russia. Sokhumi Streets in their own adorable.
Features Sukhumi streets
The city is located in the subtropical climate zone,which affects its characteristics. Along the streets with palm trees and a promenade offers beautiful views of the Black Sea. Almost all city streets are arranged parallel or perpendicular to each other. Sukhumi is divided into distinct segments. On some streets preserved old buildings.
The main street is Muhajirs Quay,which has more than 100 years. There is a maritime shipping company building Abkhazia. From the coast to the mountains of Keystone rises the picturesque streets of Leon, decorated with greenery. Among the plants is dominated by oleanders and palms. Outside Leon Botanical Garden, the museum building, the building of the Philharmonic. The street ends at the kennel for monkeys.
The oldest street is Avenue SukhumiPeace. It is located of the city administration building, decorated clock. Mira - is the center of cultural and business life of the Sukhumi. Significant sites of the city is the Liberty Square, where the government burned house. In Sukhumi, there is also an area of ​​Fame, which is associated with the most tragic events of the Georgian-Abkhaz war.
The main historical attractions
Walking through the city makes it possible to obtaina lot of pleasant impressions of interesting architecture and beautiful nature. In the northern part of Sukhumi can see the monument of Georgian architecture - Besleti Bridge. Earlier of the main road into the mountains. Today, the remains of the bridge were fighting towers that protected the valley from the attackers.
Abkhazia ancient sites consideredSukhum Fortress is situated in the central part of the city. It was founded in the 2nd century by the Romans. Gradually bastions have fallen into the sea. The fortress is of great importance for archeology and history. Until now, the excavation carried out here.
In the north-eastern district of Sukhumi is CastleBagrat, 500 m distant from the sea. We have survived only the ruins of a huge and impregnable castle. From the top of the hill on which the castle was stretched, with beautiful scenery.
Converted Kelasuri Wall (Great Wall of Abkhazia) is removed from the city center 5 km. It is the oldest fortification, extending to the bank of the Inguri river.
Another interesting architectural object Sukhumi - the Botanical Garden, which has existed for the second century.
Photos Sukhumi streets