Water parks in Sukhumi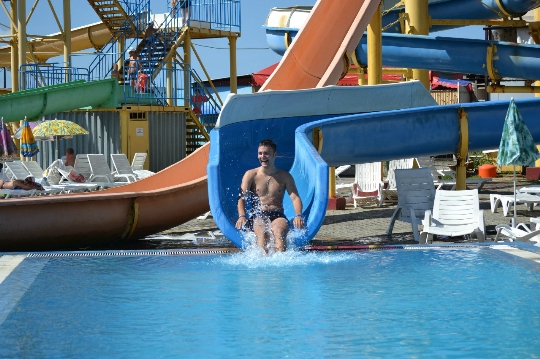 Sukhumi, though not its own water park, but travelers can visit the only water park in Abkhazia - it is in Gagra.
There is a water park Gagra are:
7 swimming pools (they are filled with both marine and fresh-water: among them is the swimming pool with Jacuzzi, a swimming pool with the effect of sea waves, etc.), around which parasols and sun loungers;
slides "Bend", "wave", "Multislide" and others;
children's area with a pool, the depth of not more than 0.5 m, a slide, a fungus (with his hat flowing water), a pirate ship and a fountain in the form of a dolphin;
parking, changing rooms, toilets, storage, café-bar with satellite TV.
Fans of night entertainments here is to comeafter 20:00 are their waiting for a disco and an entertainment program, accompanied by musicians performances. In June, the entrance for adults will cost 800 guests, and in July - 900 rubles; small 4-10 years visitors - 500 rubles in June and July - 600 rubles.
Water Activities in Sukhumi
On vacation in Sukhumi want every day to swim in the pool? You need to stay in a hotel with a swimming pool - "Viva Maria", "Hotel Atrium-Victoria", Villa "Sun" and in other hotels.
Beach lovers can go to the Centralcity ​​beach (there is a lot of breakwaters, so on the beach is not big waves rise, which is important for a holiday with the kids) - he will appreciate their restaurants and water attractions.
If you choose to relax on the beach of Sinop, youwill be able to ride on a banana boat or jet ski, fly on a parachute over the sea, go for a walk on a yacht or a boat. As for young travelers, they are on this beach will be able to jump on the trampoline. If desired, you can relax on the beach Mayakskom - there is a kebab, showers and changing cabins. And besides, at this beach you can encounter with dolphins, because they often swim in its waters.
Are you interested in "wild" beaches, where you can sunbathe almost alone? Go to the beach "Gumista" (it is covered with a mixture of sand and pebbles).
Sukhumi will please fans of diving: in Sukhumi bay they will be offered to explore the ruins of the once existed in the area of ​​the ancient city Dioscuria - underwater ruins are located on a 15-meter depth, so they can even see the divers novice (Organization scuba travel deals hospitality service "Apsny" - it starts after the briefing and will last about 1 hours). But experienced divers will be offered to plunge into the water from a boat to the study of the sunken Soviet ship - in time of war it was used for transportation of refugee children from Novorossiysk in Sukhumi (the children were rescued, but the ship sank fascist fighters).
Photo