Beaches in Abkhazia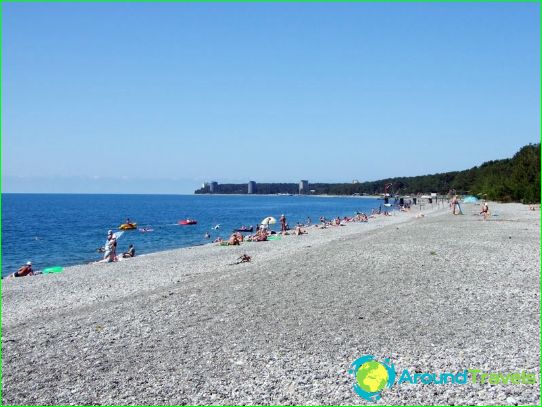 Resorts of Abkhazia associated with the strengthening ofimmunity, treatment in sanatoriums. In addition, the country offers, and other leisure activities: tours to historical sites, hiking in virgin forests, active entertainment for children and adults.
An unforgettable beach vacation will be, which will please guests with its advantages:
1) mild climate;
2) clean healthy air;
3) caressing warm sea;
4) the majesty of the Caucasus Mountains;
5) reasonable prices.
The resorts are no noisy animation programs andtedious party until the morning. Calm and unhurried flow of life gives the feeling of complete rest, will help restore power, coping with stress and return from holiday fully updated. This opportunity attracts many tourists from different countries.
Abkhazia's beaches are completely free from anybuildings, so during a long walk you will not have to go around fences or private property. Along the coast are cozy cafes, where you can sample local cuisine.
Almost all of the coast ispebbles, small or large. Find the sand can only be in Pitsunda, in other places there is a narrow sand strip. municipal recreation areas, so they can stay in everyone.
Pitsunda
Cape Coast broad, covered with small pebbles. The path to it passes through the woods, filled with the scent of pine trees. This grove is the main attraction of the country. Needles, heating, allocates special "pine air", which has beneficial effects on the respiratory tract and nervous system.
Beach equipped with changing rooms, toilets,showers, are located nearby cafe with snacks and beverages. The best sandy beaches of Abkhazia are right there. They tend to be few tourists, so that each company can stay alone, without neighbors.
Sukhum
The coast of the capital of Abkhazia, pebble, a hillsSea steep to moderately steep. It offers water activities, locker rooms, restaurants and cafes. In some areas in the sea come breakwaters. Spacious beach strip stretches approximately 20 km in length and consists of areas, among which "Gumista", "Mayak", "Aitarou", "Health". Landscaped areas are closer to the center, located on the outskirts of the wild.
Resting on the shores of the Black Sea in Abkhazia,You can plunge into the pristine nature and visit the many attractions, swim in the warm waves and restore peace of mind.
Photos beaches in Abkhazia