Beaches in New Athos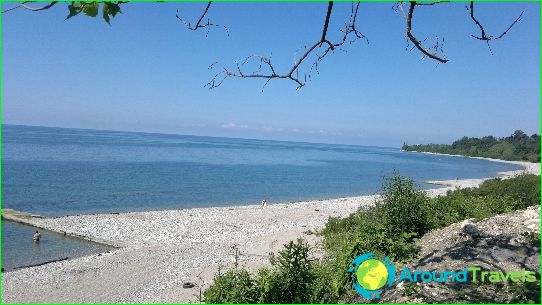 New Athos - the city with a Greek name,Located 22 km from the capital of Abkhazia - Sukhumi. It is nestled on the coast of small bay, located at the foot of the Iberian mountains. It also called Anakopia because approximately from the IV century BC there was a settlement, named Anakopiya. It was the capital of the Abkhazian kingdom.
Now New Athos attracts tourists surprisingly lush subtropical nature, remarkable historical and religious monuments and, of course, the noise of the Black Sea surf and beautiful beaches.
So, the beaches of New Athos.
In Novy Afon is dominated by sea beaches, despitethat there is also a fairly large river Psyrtsha. Most of these beaches - pebble, they consist of a mixture of pebbles of different sizes at the same time there are also sand and pebble beaches. But all their charm lies in the fact that they are surrounded by amazingly beautiful eucalyptus groves. The city beaches are not equipped with free lounges and umbrellas hire them is virtually nonexistent.
Nevertheless, many people love the beaches of New Athosdue to the fact that the descent into the water is shallow and therefore are a good rest with children. It is noteworthy that the entrance to the beaches and resorts owned, which a great many here, is absolutely free, and for tourists. And these just the beach you can rent all kinds of chairs and umbrellas, access to showers and changing rooms.
As mentioned above, in New Athos is possible to stay in boarding houses, guest houses, small hotels and large hotels.
Price of the issue is directly dependent on the season, playingthe role and the proximity to the coast. But the distance from the highway passing will have to assess yourself. Away from the sea and resorts twice a day carrying holidaymakers to the coast by bus attachments.
The most popular resorts and hotels in New Athos
Pension "The Monastery"
Hotel "Abkhazia"
"Waterfall" Pension
The resort complex "Camara"
Hotel "Griffin"
Hotel "Imperial Alley»
New Athos - a calm and quiet rest withoutnoisy water sports. It does not find water parks, inflatable slides. Nothing breaks the silence and grace, so good here to switch to the quiet rhythm, escaping from a mad whirl of the metropolis. And yet here you can participate in a tour group visiting the legendary New Athos Cave, extending to several rooms. Cavers have worked hard to make visitors could walk on a flat surface, developed a route to the top of which visitors drove the small open train. There are also excursions to the local monastery and alpine lake Rizza.
Photos beaches in New Athos