Traditional cuisine of Abkhazia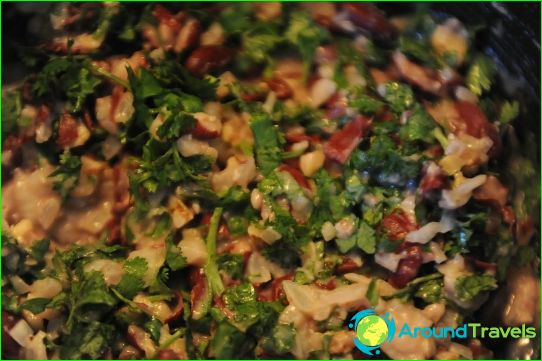 Food in Abkhazia is useful, tasty and balanced.
Food in Abkhazia
An important place in the diet of Abkhazians take up meat and dairy products, as well as corn, nuts, fruits and grapes.
Food Abkhazians - a simple and varied. A typical dish on the table resident of Abkhazia - hominy (fresh thick porridge made from corn meal). Generally made from corn flour, they make a lot of dishes, such as tortillas and basis for dessert atsvyrtsma (halva).
The Abkhaz kitchen not so many dishes of pork and fish, but it is famous for dishes based on venison, lamb, walnuts, cheese and vegetables.
It is worth noting that the Abkhaz kitchen sharp enough as Abkhazian people love to season dishes of sauces, spices (basil, coriander, savory) adzhika.
Good food can be in the local cafes, canteens andrestaurants, but to choose a place to rest it is expedient, depending on whether a food lover you are. For example, if you love Japanese and European cuisine, you'd better stay in the cities of Sukhum or Gagra, as in other resort towns you will find catering, offering its guests an exclusive selection of local and homemade Russian cuisine.
But if we consider the financial issue, the price of food in Gagra highest. And best of all, in terms of price and quality of products, catering was organized in the city of Sukhumi.
Drinks in Abkhazia
Glory Abkhazia brought wine: almost all the villagers grow grapes to subsequently prepare a homemade wine (ripe grapes gags manually).
In Abkhazia should try:
- Legendary wine brand - "Psou", "Bouquet of Abkhazia", ​​"Anakopiya", "Lykhny";
- New brands of wines - "Chegem", "Escher", "Amr".
In addition, it is to try chacha - grape vodka, which is made from grapes such as Isabella and Akachich.
Gastronomic tour in Abkhazia
Fans of gastronomic tours can goin the national cuisine - "Apatshi": you, stay in picturesque surroundings on the bank of the Black River, can enjoy hominy, lobio, smoked meat, khachapuri, a young cheese, pickles, pkhali, as well as treat yourself homemade wine and chacha.
Be sure to visit the village of Chernigovka. Since it is located in a unique location - in the mountain valley of the river under the falls, you will not only enjoy the scenic views of the local, but also to take advantage of the Abkhaz hospitality - if you want to you can organize a delicious dinner with a barbecue and a traditional wine.
From Abkhazia necessarily should bring wine - to this end is to buy it in a glass bottle factory (best not to buy this drink from private owners).
Photos national dishes Abkhazia