Holidays Abkhazia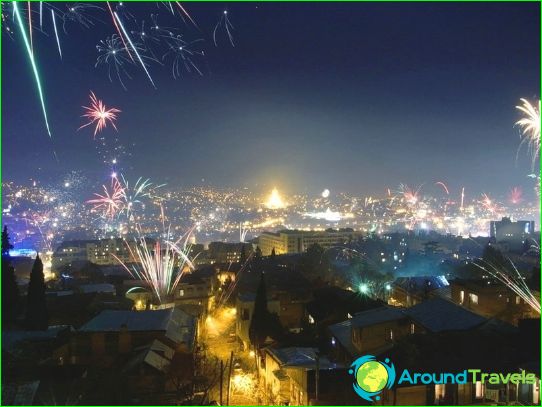 Abkhazia Holidays - a reflection of the diversity andcultural wealth of the local population. The festive calendar of the country are as holidays celebrated since ancient times, and have appeared recently.
Main Abkhazia holidays
New Year (1 January): Abkhazians put on New Year's table boiled meat and chicken with spicy adzhika, hominy and cheese pie, fruit, sweets, home-made wine. By tradition, the children on the New Year sent to neighbors to tell the poem and get some candy and other sweets. In honor of the holiday festivities are held, accompanied by singing and dancing. In addition, everywhere lighted garlands, sparklers and fireworks are launched into the sky.
Kyrsa (Christmas Day): according to the custom, on the eve of January 7 need to go early to get up at midnight, a prayer, and then eat the chicken. Despite the fact that not all comply with the custom this holiday is loved by many Abkhazians.
Kurbannyhua (Eid al-Fitr, September 23, 2015): in this day to bring a sacrifice - to cut cattle and distribute the meat to the needy, boarding schools, kindergartens, as well as to commemorate the dead, walking on the graves of deceased relatives, to visit the mosque, to eat cooked meat for universal meals.
Independence Day of Abkhazia: September 30 all go to the concerts, the military parade (Freedom Square in Sukhumi) and sports events to mark this event, as well as having fun on national holidays. On the day of independence, a lot of people are going to have the Glory Memorial and the places where rest the defenders of the fatherland, who died in the war years 1992-1993, with the aim of laying wreaths and flowers.
Easter: Christian families in this day take out a specially prepared for the celebration clay jugs of wine - of the wine is accepted to the temple (during the Liturgy the priest offers prayers for the families of those who brought the wine), and some - to drink during the festive meal. In addition, the Abkhaz slaughter a sheep or goat, as well as the table is served a special meal based on corn meal with cheese - "ailadzh".
Tourism Events in Abkhazia
Lovers of event tours in travel agenciesadvised to visit Abkhazia during the festivals. So, should go to Sukhumi Art Festival "Eucalyptus Abkhazia wind" (August). During the festival you can take part in creative competitions - "Art photo", "Painting", "Free Form" (installations, sculptures). And the winners are awarded prizes and certificates. It is worth noting that if you want you can visit the various workshops, such as decoupage - they invite not only adults but also children.
Abkhazia is famous not only for fabulous caves, Colchis forests and beautiful parks, but also for its holidays.
Photo