Rest in Gudauta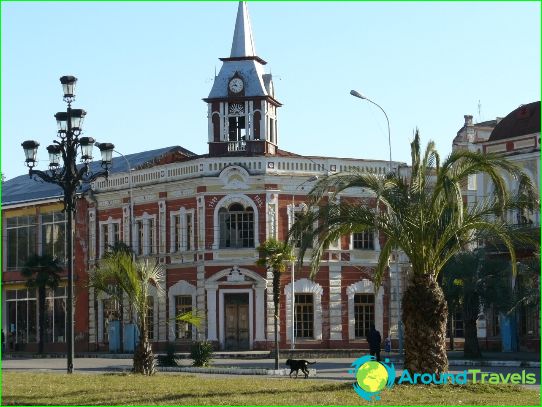 Rest in Gudauta - it's attractive prices, wide pebble beaches, moderate influx of tourists in the holiday season.
The main types of recreation in Gudauta
Beach tour should pay attention to the central city beach - on its territory there is a point where you can rent umbrellas, chairs and other equipment needed for a comfortable stay.
Active: vacationers can play volleyball, go fishing, or a short boat trip on a boat, diving, ride on horseback or on the Ferris wheel and other attractions in the city park, explore the caves in the Black River.
Sightseeing: having gone to a guided tour, you will visit the village of Lykhny (arrived here in October, you can visit the Harvest Festival, followed by competitions, tasting of national dishes, dances, competitions in horsemanship), where is the princely palace and the temple of the Assumption of the Virgin with the tomb of Prince Chachba- Shervashidze; Myussera in the temple; Hassan Abaa fortress; Museum-Reserve "Abazgia"; winery (offers to visit the tasting room). Who will be able to go on a tour of the SUV to visit Gegsky waterfall, blue and Lake Riza, as well as a trip on tourist routes, laid on the Gudauta district. And fans of walking and want to experience the local vegetation, can head to the central city park.
Wellness: can heal in local health centers (for the treatment of cardiovascular diseases, diseases of the nervous system and the respiratory system is widely used iodine-bromide, hydrogen sulfide and sodium chloride mineral water). Patients heals not only by water from the mineral springs, but also by a thalassotherapy, climatotherapy, heliotherapy and aerophytotherapy.
Prices for tours in Gudauta
The ideal time for a holiday in this Abkhazianresort - May-September. Prices in Gudauta low, but their small increase (15-25%) is typical for the summer months. To relax even more budget and at the same time to capture the wonderful weather in Gudauta can come in velvet season - in September - mid-October.
On a note!
Going on vacation in Gudauta, in the road first aid kit be sure to put the drugs from food poisoning (exacerbation of food-borne infections observed in the summer months).
On the rest is better to take cash rather than credit cards, because the ATMs are found here - not so simple.
Despite the fact that almost all of the attractions are outside Gudauta, reach them easily by bus or taxi.
In memory of the holiday in Gudauta can bringAbkhazian wines, souvenirs made of bamboo, wood, shells and vines, honey, tea, spices, adjika, knives, utensils, medicinal herbs (dried mixtures, tinctures, pillows, stuffed with herbs).
Photos rest in Gudauta