Railroads of Abkhazia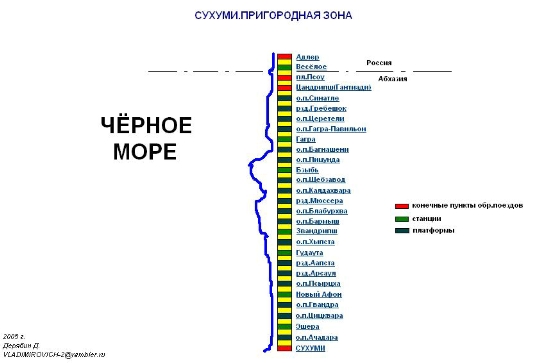 Railroads of Abkhazia and servicedoperated by the state enterprise "The Abkhaz railway". Currently, passenger traffic on the railways of the country is carried out on the route Moscow - Sukhumi. The movement represented by four through coach to the train 75/76. In Abkhazia from Russia, you can also get there by train Moscow - Adler. Named trains are not used for passenger transport within the country. Cargo moved by rail from Abkhazia Psou to Gala and Ochamchira.
Status of the Abkhazian railway
Railroad track from Sukhumi to Psouelectrified. Removing the wires occurred in the direction of Ochamchira. Abkhazia's railway network was severely damaged during the war. Later it recovered partially and at first began to be used for the transport of military peacekeepers from Russia. Gradually, the movement on the railways has been restored. However, the railways are in poor condition, and gradually more and more destroyed. The reason lies in the lack of funds for the reconstruction work.
Moving to Sukhumi from Psou to occurusing electric locomotives. According to the country's railways move troop trains composed of freight and passenger cars. They follow up such items as Ochamchira and Gudauta.
The length of the Abkhazian railwayIt is about 221 km. It starts with a platform Psou on the Abkhazian-Russian border runs along the Black Sea coast and ends Ingur platform on the border with Georgia. Suburban traffic in Abkhazia is not currently implemented.
Passengers who follow the train Moscow -Sukhumi, avoided the transition of the Russian-Abkhaz border on foot through the checkpoint at the Psou. They cross the border, taking place in the trailer car for the train 75/76. Leaving the cars they do not have. However, this method of travel is more long than others.
Railroads of Abkhazia have many disadvantages. Rolling severely deteriorated. The cars need major repairs or write-off. Signalling and traffic lights not functioning in part, why the movement coordinated via cellular. Stations of the country abandoned and in need of repair.
Train tickets
Ticket office supporting systemExpress 3, operate on the Sukhumi station, Gudauta and Gagra. Today, the country runs the only passenger train Moscow - Sukhumi and transportation of people only happens to Sukhumi station. Buy tickets for this train can be on tutu.ru/poezda site.
Photo