Kitchen Abkhazia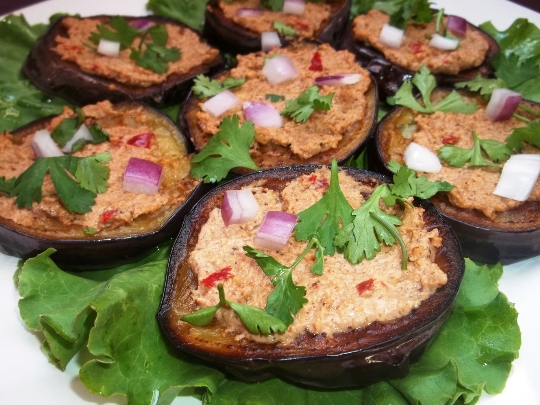 Kitchen Abkhazia - a kitchen, the culinary traditions that were formed over the centuries (dishes of this cuisine are varied and tasty).
National cuisine of Abkhazia
Of the meat dishes are considered delicacies from goatadzhika and cheese stuffing and lamb, roasted on a spit. For cooking use and chicken meat, which is usually served with adzhika, greens, peanut sauce. In addition to meat widespread in the country have received organ meats - liver kebabs, otarnoy leaver with nut mass, garlic and spices, liver, braised in tomato and onion sauce.
Almost all the dishes are added adjika Abkhazians -seasoning of garlic, red pepper and dried herbs. In addition, widespread are sauces of plum, barberry, pomegranate, tomato and spices as basil, coriander, parsley, mint and garlic.
Popular dishes Abkhaz cuisine:
"Polenta" (it is called "abysta" and it is a thick maize porridge, which is placed on top of the cheese suluguni);
"Akudrtsa" (Abkhazian bean soup with herbs, spices, and lamb);
"Ashvyrhv" (cheese bagels);
"Kebab Abkhazian" (it is made from beef, pre-soaked in a marinade of spices, salt and sugar, then fry it, sprinkling pomegranate juice and wine, flavored adzhika).
Where to try the national cuisine?
Visiting Abkhaz restaurants should takeNote that the best organized catering in Sukhumi (this applies to both the ratio of prices and quality of food), and Gagra resort is dominated by food places with the highest prices. With regard to the fee for the service, it is automatically included in most of the establishments in the bill.
In Pitsunda wishing to eat can headin "Apsara" (here the offer to eat a bird in peanut sauce-bag in Abkhazian, barbecue), in Gagra - in "Gagripsh" (this serves Satsivi, tobacco, chicken, hominy), in Sukhumi - in "Nartaa" (in institution offers a taste hominy, sauces, vegetable snacks with ground nuts, kebab, khachapuri, boat).
Cooking classes in Abkhazia
If you want to try a simple Abkhazianfood, you will be offered a trip to the village of Chernigovka (Sukhumi district): here you popotchuyut delicious lunch, including Abkhaz kebabs and local wine. Well, cooking classes in Abkhazia, will be able to learn the art of cooking fried smoked beef kebab with authentic Abkhaz adzhika, vats, cake-Churek. After cooking awaits them tasting the prepared dishes and local wines ( "Psou", "Bouquet of Abkhazia", ​​"Apsny").
A trip to Abkhazia could be timed to coincide with the festival and celebrations, such as the traditional Easter - "Midland" (April-May).
Photo