The population of Abkhazia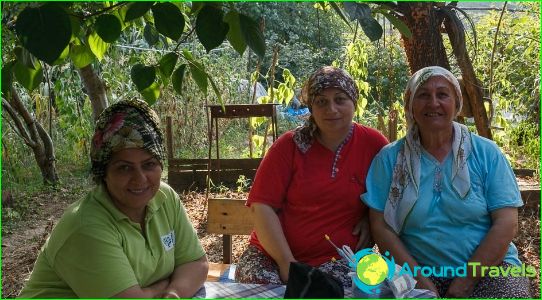 The population of Abkhazia is more than 240 thousand people.
Abkhazia first settlers began to explore the north-eastern outskirts of the city of Sukhumi.
The population of Abkhazia ethnically stronglychanged during and after the Russian-Turkish War (1877-1878) - the Abkhazians and other North Caucasian peoples began to leave their land, resulting in the population has decreased by half.
Today heterogeneous ethnic composition of Abkhazia and presented:
Abkhazians;
other nationalities (Georgians, Russian, Greeks, Armenians, Ukrainians, Estonians, Turks, Jews).
In the 1st quarter.km is home to 40 people, but the most densely populated areas are located on the coastal plain and foothills (here is the majority of cities and home to most of the rural population).
Official language - Abkhazian, and widespread is the Russian language.
Big cities: Sukhumi, Gagra, Gali, Gudauta, Ochamchira, Gulripsh, Tkvarcheli, Pitsunda Tkuarchal.
Residents of Abkhazia are Orthodox, Abkhaz monotheism, Islam (Sunni), paganism, Judaism.
life expectancy
On average, residents of Abkhazia live up to 73 years. But often there are centenarians among Abkhazians, who live to 100 years or more. This is because their diet consists of plant foods, dairy products, they practically do not eat meat products, canned meat, sausage and a variety of meats. In addition, they consume little salt (to replace it have come from sauces barberry, plum and tomato, adjika).
You do not need to do any special vaccinations, but be sure to take care of health insurance registration before a trip to Abkhazia.
Traditions and customs of the inhabitants of Abkhazia
Abkhazians - welcoming and hospitable people, who revere their elders, care of nature.
In Abkhazia, interesting traditions associated withmatchmaking. Previously, all the nuances of wedding fathers talked about the future newlyweds, and just after their birth. Today, young people are engaged in the search of its second half. But, nevertheless, there is still the custom to ask for the blessing of their parents, not in person, but through his friend or the most junior member of the family. Matchmaking is accompanied by an unusual ritual - agreeing to the wedding, the fathers of the bride and groom need to throw each other under the legs or bullets fired into the air with a gun.
If you are invited to Abkhazia to visit, not toto offend the host, do not offer money or other payment for the reception or service. In general, the Abkhazians can stop at any time: they are the one person will be welcomed as a dear guest, served at the table all that they have in the house (each house passed to reserve something for unexpected guests - sweets, fruit, wine, cheese) .
Leaving Abkhazia should take with a wine, local spices, honey, nuts.
Photo