Trains Abkhazia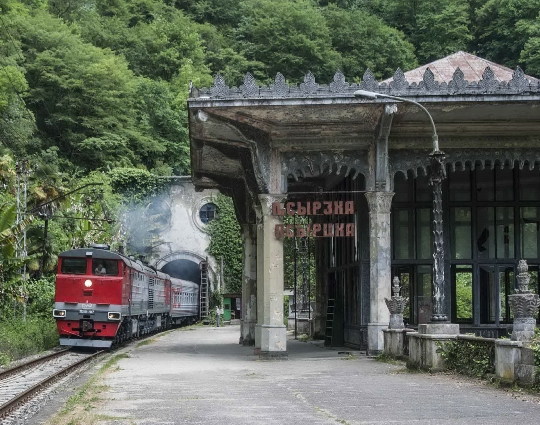 Railroad Abkhazia starts near the station Adler, on the bridge over the river Psou. It passes through the territory of the unrecognized republic, which formally belongs to Georgia.
Earlier trains Abkhazia belonged to the Transcaucasianrailway, which runs from Tuapse to Adler and Senaki. Driving on this road going from 1942 Railroad was considered part of the transit route to Armenia and Georgia until 1992, the main railway station and a symbol of posts in the country is Sukhum. Station of the city was rebuilt in the middle of the last century. In 2004 the railway of Abkhazia was restored in the area of ​​Psou to Sukhum. In the same year it started to go on the train on the route Moscow - Sukhum and electric trains from Sochi to Sukhumi.
As trains
Train schedule in Abkhazia presented atOnline azhd.ru. There you can see how moving passenger train on the route Moscow - Sukhum. According to the Abkhazian railway does not run trains and commuter compositions. From Russia to get on the Abkhazian territory as possible, if you buy a ticket on the direct train Moscow - Sukhum. It takes almost 42 hours. Passengers can get to the Adler, and then take a bus or commuter train. Between Sukhumi and Sochi daily shuttle trains. Ticket cost about 170 rubles. From Adler station to Sukhum can be reached in 4 hours. A ticket to the compartment is not less than 600 rubles, and reserved seat costs less. 50% discount applies to children up to 10 years.
Travel by train - it's not the fastest,but a way to be on the budget resorts of Abkhazia. On the route Moscow - Sukhum trains run every day during the summer. In winter, the train schedule changes in Abkhazia. Compositions are sent less frequently, several times a week.
directions Features
Schedule of trains is highly dependent on the seasonand holidays. Along the way the train makes stops at intermediate stations: Gagra, Tsandripsh, Gudauta, New Athos. If a passenger wants to get to the Pitsunda, then he needs to get out in Gagra and then get to your destination by taxi or minibus.
Tickets for the train in Abkhazia, which is sent tofrom Moscow, should buy the station fun. Then, arriving at the station, you should purchase a ticket to the desired station, Abkhaz. This can be done without leaving the car.
Each passenger passes passport and customs checks at the border. Out of the train while it is not necessary, which is very convenient. Checking takes half an hour.
Photo