Treatment in Abkhazia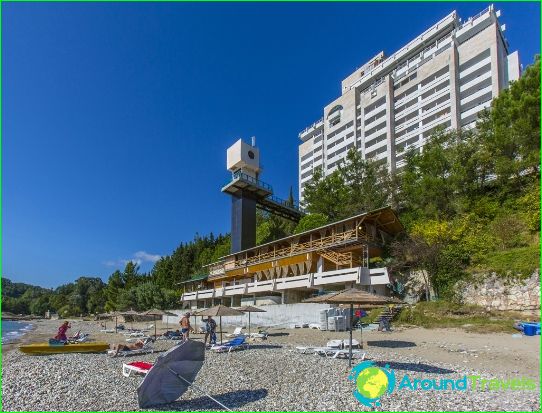 Several decades ago, rest and treatmentAbkhazia considered one of the most sought after tourist destinations of the residents of the former Soviet Union, as in Sukhumi and Gagra could not just enjoy the sun and sea, but also to improve health in local health centers and health resorts. Medical factors in this fertile area can call and surf, and the hot sand, and pine aromas impregnated the air, and of course the famous Abkhaz water mineral springs.
important rules
Choosing a resort on the coast of Abkhazia, is notOnly pay attention to the specialization of each health center, but also to consult with your doctor beforehand to medical procedures have brought only benefit the body.
How to help here?
The names of the main Abkhaz resorts on hearing of many generations of Russian travelers:
The ideal climate in Gagra for relaxing andtreatment of vascular diseases of the heart and respiratory system. Public baths built on mineral spring whose water - the perfect remedy for arthritis and other diseases of the musculoskeletal system.
Water "Auadhare" source in Gudauta relieves patients with gout and diathesis, inflammation of the stomach and urinary tract.
Treatment in Abkhazia for heart failure patients are in Sukhumi sanatoriums. Here you can get rid of dermatological and gynecological inflammatory diseases.
The nervous and cardiovascular system - the subject of special attention of physicians Pitsunda resort, famous for its relic pine groves.
Methods and Achievements
One of the main medical factors resortAbkhazia - its mineral waters. Sources are located in different regions of the country and the main advantage of the Abkhaz mineral water - its ability to help with a number of serious diseases. A course of treatment in the mineral waters of Abkhazia regulates lipid and protein exchange, helps normalize blood clotting, relieves patients with gout, hypertension, diabetes and cardio.
Price issue
The cost of treatment in Abkhazia is much lower thanbalneology health resorts of Europe. The average cost of living in the sanatorium is about $ 20 per day. Three meals a day included in the price, but for the course of medical procedures will have to pay separately.
Photo