Traditional cuisine Afghanistan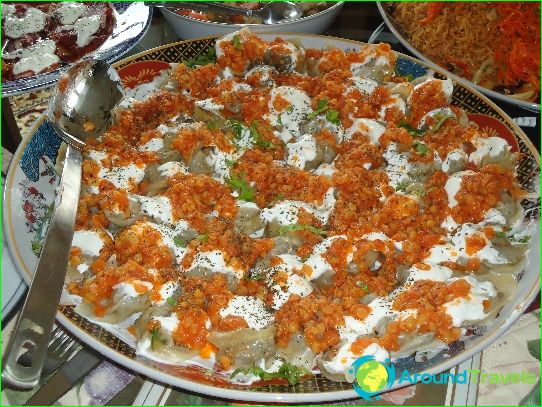 Power in Afghanistan
Power in Afghanistan is characterized by relatively low prices, but only if you eat at local restaurants or purchase products in local markets.
Food in Afghanistan
Afghan cuisine is considered one of the most ancienton the planet, and, despite the war and the meager assortment of products (due to climatic conditions in many parts of the country it is not easy to grow Agricultural crops), the local cuisine is known outside the country.
Afghan food ration consists of rice, meat, vegetables and fruit, thick soups, pasta, dairy products, legumes, offal, lozenges "naan".
Pilaf and other meat dishes Afghans prefer to eat with various side dishes of vegetables, cereals and legumes, as well as cheese and hot sauce.
As for spices, the Afghan dishes are seasoned with curry, ground grape seeds, vinegar-based sauce, oil and black pepper, "Khawaja" (a mixture of turmeric, black pepper, coriander, cumin).
In Afghanistan, you will be able to try the "shish kebab"(Kebab strung on skewers of meat, vegetables and fat); "Keftiu kebab" (skewers of minced meat and onions); "Morgues kebab" (skewers of chicken); pilaf (it is made from rice, various vegetables and spices with the addition of beef, mutton ribs or poultry); "Feed-Sabzi" (lamb or beef, cooked with spinach, spices and other vegetables); "Mushavu" (soup based on yogurt and legumes); "Burani" (a dish of tomatoes, eggplant and onions); pulao (a dish of boiled rice, carrots and raisins); qabli pulao (pulao with lamb).
A sweet tooth should eat milk pudding with pistachios, halva, cakes stuffed with cheese or jam, candied fruits and nuts, biscuits "gauche-fil".
In Afghanistan, you can eat in:
- Cafes and restaurants where you can order the Afghan and international dishes (such places are open mainly in Kabul);
- Cafe, where you will be served pilaf and shish kebabs (these places are open in provincial towns).
Drinks in Afghanistan
The most popular drinks are Afghans tea (black, green), milk.
It is worth noting that the purchase alcoholic beverages in Afghanistan, you can only import manufacture and institutions that are focused on the Europeans.
Gastronomic tour in Afghanistan
Gourmets can go to Afghanistan as part of a gastronomic tour to ride on the local restaurants and enjoy local food there.
Going on vacation to Afghanistan, you will visitto Kabul for city tours, famous ancient mosques, mausoleums and madrassas, inspect the neighborhood (the monuments of Buddhist culture, scenic gorges, the ruins of stupas and monasteries), as well as taste the colorful cuisine Afghan cuisine.
Photos Afghan national dishes