Airports in Albania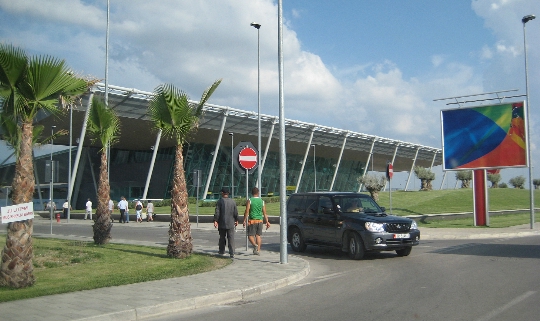 Of the five airports of Albania has only one international status and may be of interest to foreign tourists. He called Tirana Mother Teresa International Airport and located in the capital.
Albania International Airport
The air gate of the country with such statuslocated 11 km north-west of Tirana, in the village of Rinas. Only Albania airport terminal in addition to its own aircraft Albanian Airlines takes flight over twenty airlines. These carriers will help get passengers to Tirana from Russia, because direct flights to Albania from Moscow or St. Petersburg is no:
Turkish Airlines, flying through Istanbul.
Malev, with a transfer in Budapest.
Alitalia, with a connection in Milan.
Austrian Airlines, via Vienna.
British Airways, with the ability to see London.
Olympic Airways, offering connections via the Greek capital.
Aerosvit, through Kiev.
Adria, with a stop in Ljubljana.
The journey time from both Russian capitals to Tirana is considering joining, on average, six to eight hours.
Internal infrastructure Ataturk Airport. Mother Teresa happy tourist. Built in 2007, a brand-new terminal has free Wi-Fi and a currency exchange office, a tourist information center and several restaurants, duty free shops and a zone for smokers.
The passengers landed in Tirana, haveto pay the airport tax, which amounts to 10 euros (in September 2015). Answers to any questions and information on the flight schedule, and you can visit the official airport website - www.tirana-airport.com
Transfer to the city
The bus - the cheapest form of transfer. The center of Tirana and the airport terminal connects bus route, the final stop which is called the "National Museum". Ticket price - about two euros. The first bus leaves at 6.00 in the city, and the last - in 18.00.
Taxis in the Albanian capital center will cost between15 to 20 euros, and the trip takes less than an hour. It is advisable to negotiate the price in advance and use the services of licensed cars that have red ATEX logo on a yellow body.
Rent a car, you can at the officeEurocar, located in the passenger terminal building. In recent years, the state of Albanian roads has improved considerably, and in the area of ​​the city in which the airport, motorway and all the modern look. Book a car it is best to use the site rolling office. It can be guaranteed to "stake out" the right not only to the car, but the price of its lease.
Photo