Beaches Albania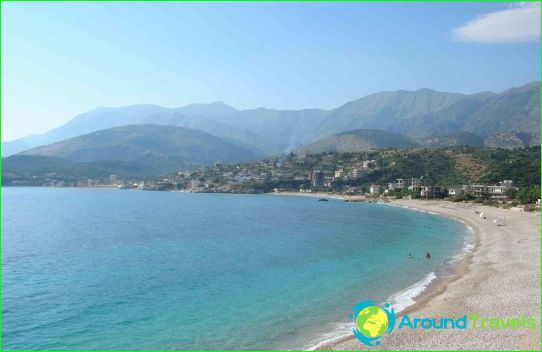 Albania is located on the shores of two seas -Adriatic and Ionian. Northern Albania is not as popular with tourists as southern. It is understandable, because the climatic conditions of the South are more suited for relaxation. But the best sandy beaches of Albania situated on the Adriatic coast.
Adriatic coast
The most famous beaches of the Adriatic coast: Velipoja; Shengjin; Durres; Kavaye. All these beaches are sandy. Importantly, the beaches of Albania all the public and free. Lovers of coastal walks will love the softness and tenderness of sand on the seashore. The infrastructure is developed at the secondary level. All you need an ordinary vacationer, there is in the area of ​​accessibility: round the clock coffee shop, shops, live music venues are located almost everywhere. One of the most popular beaches in Albania - Durres - stretches along the coastline for 15 km. It is very warm and affectionate sea water and sand contains a lot of iodine.
Popular town of Shengjin,located just north on the Adriatic coast. Despite the fact that the city is located in the northern region, the climate is warm. This is due to the fact that Shengjin closed from cool winds of the mountain range. The area attracts tourists who prefer fresh air.
Ionian coast
Many famous Albanian beaches are on the Ionian coast. The coastline of resorts stretching between the cities of Vlora and Sandra, called the "Riviera of Flowers".
The most favorite beaches of the Ionian coastcountries are: Dhermi; Bors; Qeparo; Yal. These places are known for clean sea water and amazing landscape of mountains. In contrast to the Adriatic coast, there is only pebble beaches.
Many tourists prefer to Albanian towns beachesDhermi and Himara. In the dermis the most developed infrastructure, but the prices in this area are designed for wealthy tourists. The city fell in love with the Albanian elite.
Also known Albanian Saranda. This town is located on the shore of the bay and beaches are located right in the city. Despite this, the pure water in the sea. Beaches Saranda offer all coastal activities. Here you can rent a jet ski, a scooter or a catamaran. In addition, in recent years, this town hosts an active construction of modern summer houses for guests, so no problems with the housing here.
Photos beaches of Albania