Tirana - Albania's capital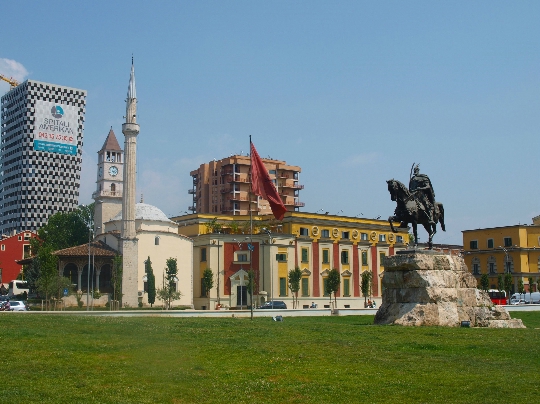 Tirana may not have such an ancient history,which can boast of many European cities. Age capital of Albania has only about 400 years, but during that time she has come a long way, has grown. She is proud of its interesting architecture, where East and West are intertwined.
Travel around the city
Any traveler, for the first time entering the city,It starts almost instantly navigate the city. The historic center of the Albanian capital is very small, so even a tired tourist can afford to go for a walk, doing without vehicles. If you must go, for example, out of town or in one of the regions, to make good photos, then you can use public transport. The most popular methods of transportation: city bus; Taxi; bicycle, offered within the local Ecovolis program. Tourists are very fond of one of the city routes, which makes a circle around the historic center. Thus it turns out a small tour for minimum money.
Main sights
In the center of Albania's capital is packed withunique monuments of architecture, culture and other attractions. Because without the influence of neighboring Turkey has not done, then we can see the various mosques and buildings, executed in the best traditions of Turkish architecture. They look very magnificent, solemn, and have beautiful names, such as the mosque Ethem Bey.
The central square of Tirana is decorated with a monument to the national hero - Skanderbeg. Here is located and the clock tower, which became a kind of symbol of the Albanian capital.
In the city there are places that are associated not only withSkanderbeg, and his relatives, for example, Petrella Castle. His description can be found in any tourist guide. But no words can convey its beauty and grandeur. The first fortification on this site was built over 2000 years ago, Petrella Castle is considered the best preserved of all the similar architectural Albania.
Travelers - fans of wildlife inTirana also expects a lot of interesting places in the first place, it's parks and botanical gardens. And the most beautiful view of the city opens from the top of Mount Dajti. For the convenience of tourists and residents constructed funicular, which will make the rise virtually invisible.
Photo