Traditional cuisine of Albania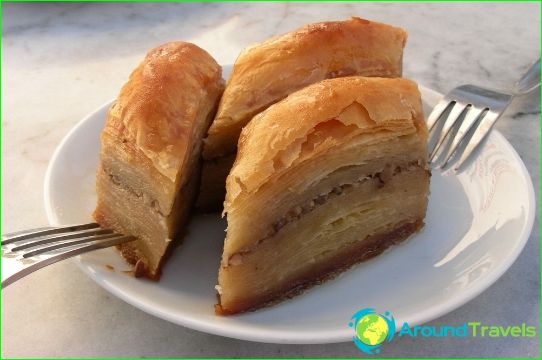 Power in Albania is characterized by the fact that thereyou can taste dishes of national, Middle Eastern and Mediterranean cuisine. In addition, local cafes, bars and restaurants will delight you with not only delicious, but also quite low prices.
Food in Albania
On the Albanian cuisine influenced by the considerableTurkish, Greek and Slavic culinary traditions: in mountain areas have widespread meat dishes, and on the coast - seafood.
The diet consists of vegetables Albanians,fruit, meat (beef, lamb, beef, chicken), by-products, seafood (shrimp, squid, mussels), rice, soups (fish, vegetables), dairy products. Albanians seasoned their dishes different herbs and spices, natural vinegar, lemon juice, red and black pepper, garlic, mint, parsley, bay leaf, rosemary, marjoram, basil.
In Albania you can enjoy the taste of dishesbraised beef ( "chomlek"); shish-kebab; meatballs ( "chofte"); lamb, cooked with the addition of yoghurt sauce ( "tave-Cosi and tave-elbasani"); National cabbage (dolma); sheep offal stuffed with meat and vegetables ( "kukurech"); dishes, which is based on tomatoes, fried meat, eggs and liver ( "fergesa tyrant"); Cold soup with sour milk with crushed walnuts, cucumbers and onions; shrimp, baked in cream sauce ( "tavekarkalecimepana"). The country has a very popular meat dishes and they are usually served rice and a variety of greens.
A sweet tooth in Albania will be able to eat baklava, various puddings made from sheep's milk, sweet rice cakes, candied fruit and pastries with honey, local ice cream "akkulore".
Where to eat in Albania? At your service:
cafes and restaurants, the menu where you can find national dishes and other cuisines;
restaurant with Italian cuisine (if you - a vegetarian, you should definitely visit these are the restaurants);
places where you can buy fast food, such as burek with various fillings (spinach, feta cheese, minced meat with onions).
Drink in Albania
Popular Albanian drinks - coffee, ayran,mineral water "Trebeshina", boza (a sweet drink made from wheat and corn), rakija (the local brew grape) wine, ouzo (anise liqueur), fruit cordials, herbal tincture "Fernet", brandy ( "Skendenberg").
Wine lovers can taste in Albania Rilindja, Tokai, Merlot, Kallmet, and beer lovers - the legendary local foamy drink Korca.
Gastronomic tour in Albania
If you go to the wine-gastronomic tourAlbania, you can see the main attractions of the 2500 year old town of Berat, Albania will visit this winery, taste the wine there and crayfish. In addition, you will have to organize lunches and dinners in traditional Albanian restaurants where you can taste local cuisine.
Holidays in Albania - is not only a wonderful nature, poorly populated Adriatic beaches, fascinating heritage and relatively low cost, but also delicious cuisine.
Photos Albania national dishes