Railways Albania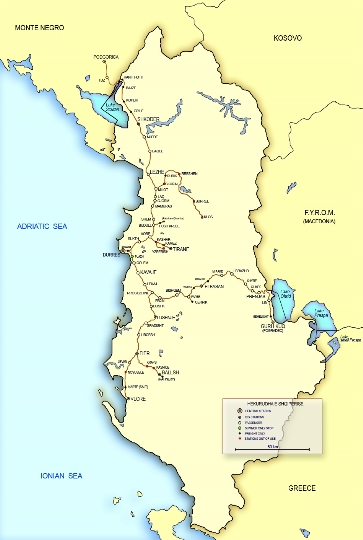 The railways are in a state of Albaniadecline. Passenger traffic was previously 4 million people a year, and now -. 300 thousand people. Degradation of the railway system is accompanied by cuts and the cancellation of trains.
the country's largest transportation hub located atTirana (the capital). In the capital's railway station, passengers change trains do with train bus and vice versa. The main train station is a two-story building in the city center. Tickets for the Albanian train is on the Internet, online ru.rail.cc, as well as at the box office.
Status w / d sphere
Currently between major citiespoints move passenger trains with a frequency - 3 times a day. F / A system is managed by HSH - The National Railway Company of Albania. Railway passengers hardly enjoyed, preferring bus. Trains updated using decommissioned Italian compositions. They are very similar to the Russian trains plying in the suburban areas. From the development of the railway network in the country is almost nothing left, except for three sections with the movement of passenger trains. In Albania, only two junctions: Rogozhin and Shkozet. The railway network does not cover the whole Albanian territory. Some small towns are hard to reach.
The peculiarity of the country's rail roads - advancetickets are not sold, they can only be bought at the station and on the next train. The fare on the train low. The fare on the train is determined by the rate of $ 1 per 50 km.
Passenger Transportation
Fall Railroad popularityIt contributed to the increasing number of cars. After the construction of the highway that connected the Tyrant and Durres, the train began to enjoy less demand. Passengers are offered a class of train. Average speed of movement of trains is 40 km / h. They have no toilets and other amenities. International Message by rail comes from Shkoder - Podgorica. Next to the Albanian border stations are located such as Bar (Montenegro), Yavanina (Greece), Tetovo (Macedonia).
Rail transport is significantly inferior to thethe quality of bus services. The country has well-developed bus urban and intercity. In Albania, there is no other urban transport, except for the bus. Trains in the country are the people that have the time, because they move very slowly.
Photo