Buenos Aires - capital of Argentina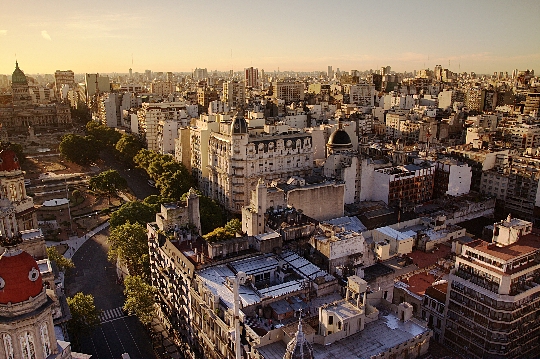 On a beautiful and amazing Buenos Aires oftenreferred to as a city of contrasts. Indeed, Argentina's capital of surprises that are perfectly coexist alongside fashionable modern skyscrapers and old neighborhoods, built by the first settlers from Spain.
The historical center in its building close toParis and Madrid, the modern areas of the Argentine capital, rather reminiscent of New York. The main difference is that there are a lot of cozy green parks, squares, boulevards.
The main tourist area
This La Boca, and it is easy to find on the map. It is here that there are tourists from different countries and continents, to plunge into the sea of ​​Argentine folk music, learn a few of the famous pas tango or simply enjoy the local attractions.
Such a beautiful name translates veryprosaically - the mouth. Indeed, a popular quarter of the guests is located at the mouth of the Matanza-Riachuelo river. The most famous pedestrian street - Caminito, here gather fans of Argentine Tango to watch the rehearsals and performances of famous local dancers.
Attractions in Buenos Aires
What is traveling through Argentinethe capital, does not dream of stunning photos. Opportunities to fill albums at every step - is among the most remarkable places of Buenos Aires called the Plaza de Mayo, the theater "Colon", the Metropolitan Cathedral. Sightseeing tour of the capital continued for several hours, during which time you can see many monuments of architecture, for example, the Pink House, the building, which houses the National Congress, the Cathedral.
In the main city in the country has a large number of museums associated with the ancient and modern art in Argentina:
National Museum of Art;
Museum Fernandez Blanco, representing the work time of the first settlers;
Museum of Fine Arts;
International Art Gallery.
The mere description of the fund collections of the envy and admiration of tourists from all over the world. To get acquainted with the exhibits, even briefly, it needs more than one week.
But the majority of tourists coming tothe official capital, Buenos Aires, the dream to get acquainted with the ancient art of dance. Therefore, in the itinerary of visitors to the city, the first item listed visit to the famous tango shows.
Photo