Metro Buenos Aires: map, description, photos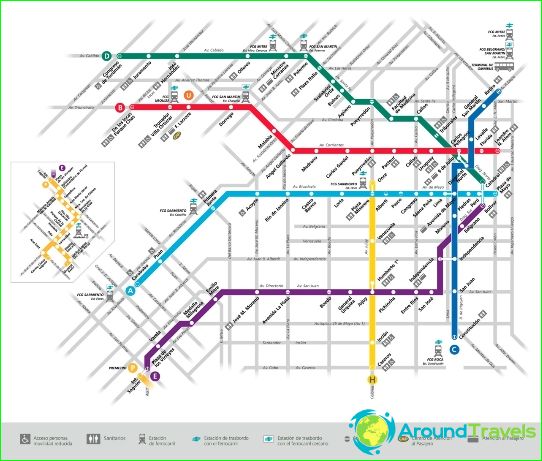 Subway of Buenos Aires - the 13th in the world by subwayseniority. It was opened December 1, 1913 after a relatively brief discussion on the relevance of the construction of the subway in the capital of Argentina. In the late 19th century, the city authorities solved the problem of congestion of ground public transport, one of the solutions was the introduction of subway operation. In 1909, a contract was signed with CTAA company for the construction of three subway lines, but it was built only one line (line A) - from the Plaza de Mayo to the building of the first junta. The last part of the line was opened in July 1914.
The second line was built by 1930, the company Lacroze Hermanos. The right to the construction of other lines in 1933, the company has received CHADOPYF.
Currently, Metro Buenos AiresIt is a system of 83 stations and 6 lines with a total length of 51.5 km located completely underground. In the near future the construction of three new lines. Together with them, subway routes will be expanded to the length of 76 kilometers and will include 127 stations. At all stations and train carriages have free wireless internet, as well as the cable channel, broadcasting news and entertainment programs.

Hours Metro Buenos Aires
Various information about the underground work timein Buenos Aires due to the fact that since the year of its opening for more than 80 years of the subway is strictly adhered to a work schedule: train followed a 4-minute intervals until 1:00 am. Only in 1994, the schedule has changed: Subway in Buenos Aires is open from 5:00 am, on weekdays the metro line close at 22.30-23.00, holiday night - at 23.00-23.30.

Tickets for the subway in Buenos Aires
To travel on the subway in Buenos Aires usedrechargeable magnetic cards and Subtepass Subtecard. For pupils and students reduced fare provided. At any time, for people with disabilities travel free. At certain hours of free travel to pensioners. Students - only on weekdays and only in school uniform.
Metro Pictures of Buenos Aires