Areas of Buenos Aires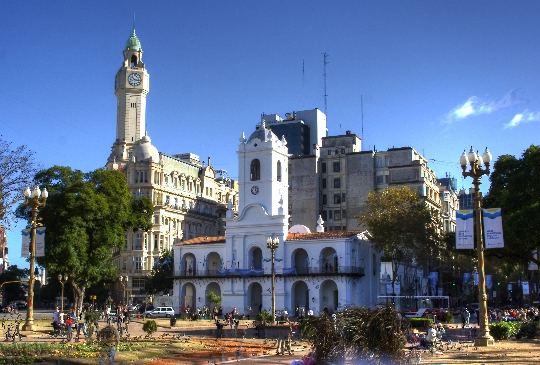 Take a look at the map of the capital of Argentina - AreasBuenos Aires there are presented in 48 units (each of which is unusual and attractive to travelers). By areas of Buenos Aires are San Telmo, La Boca, Palermo, Recoleta, Puerto Madero, San Isidro and others.
Description and area attractions
Centre: when meeting with the center is to walk down the street of Florida - where it is recommended to make photos against the Nautical Club (should pay attention to the gilded door of the portico and delicate facade, decorated with naked sea deity, trumpeting the conch; guests here today from time to time please conduct various marine activities ) and enjoy the frescoed ceilings, going to the old department store "Galerias Pacifico". And interested in theaters and bookstores is advised to walk on Corrientes Avenue. It is worth noting that in the same area is Obelisk - a symbol of the city in a 67-meter-high stone gabled columns.
Square Neighborhood Plaza de Mayo: significant places - Cathedral (he is - a reflection of the French neoclassical style, are stored inside the painting and the tomb of Francesco Domenigini Jose de San Martin), the Presidential Palace (noteworthy is the famous balcony of the palace), the historic Tortoni Cafe (it began work in 1858).
San Telmo: happy guests authentic Argentinean food establishments, colonial architecture, Sunday market, Dorrego Square, where local dancers dancing tango.
Palermo: interesting golf courses, Planetarium Galileo Galilei (demonstration of the celestial sphere is accompanied by lectures on the topics "astronautics", "Earth Science", "astronomy"), wood with sculptures and artificial lakes, Japanese garden (famous lake with 2 bridges, the South American species plant, Japanese Sakura, azaleas and Cercis, a restaurant, a Japanese cultural center, a gift shop, a conservatory with a bonsai), Botanical garden (the garden is made in the shape of a triangle and has on its territory 5,500 species of plants and trees), the National museum of decorative Arts (4000 items presented in 12 exhibition halls).
Where to stay tourists
For tourists the most notable areas withpoint of view of living are Center and Recoleta district - there were concentrated 3-4-star hotels. So, in the center, you can draw attention to the relatively inexpensive hotel "Hotel Savoy" or "Hotel Bristol". Tourists who are looking for a quiet, pleasant for walking and living area, can pay attention to San Isidro.
Pictures of Buenos Aires area