Argentina Beaches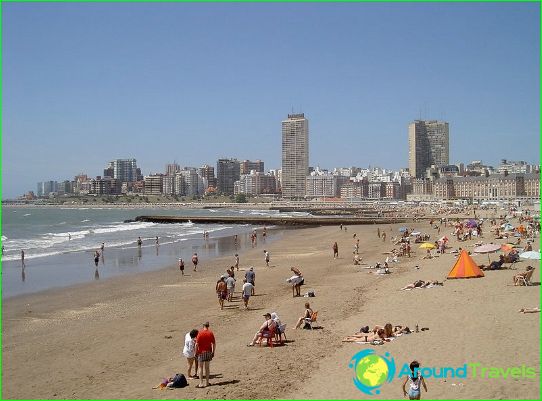 Most of Argentina's beaches stretches along thethe picturesque Atlantic coast in the eastern part of the country. Here you can find a place of rest with a well-developed tourist infrastructure, as well as quite wild places that will allow enjoy a secluded holiday.
Initially, it may seem that finding a secludeda place to rest is not so simple, however, if some effort, you can find a suitable area to be free of many vacationers.
The most popular beaches in Argentina
One of the oldest is the beaches of ArgentinaMar del Plata. Surrounded by seven hills, the resort area was built in 1874 and offers as much as 17 km of coastline, which, in turn, is a great place for a beach holiday. It should be noted that in the summer the resort can be overwhelmed the Argentines, so foreign tourists can be quite difficult to find a free space under the warm sun of the Argentine. And, nevertheless, this beach is perfect for those who prefer a day of surrender to the blissful idleness, and in the evening to plunge into the vibrant nightlife of Argentine clubs and discos.
Pinamar - a perfect place for those whoreally appreciates a comfortable stay with a touch of luxury and sophistication. Here are the best sandy beaches in Argentina, luxury hotels and gourmet restaurants in design registration, as well as excellent opportunities for outdoor activities - Pinamar enjoys well-deserved popularity with both locals and foreign tourists. On top, this resort is well suited for small leisure travelers.
Carilo - this is the place where you canplunge into the atmosphere of luxury and pomp. Here like to spend the famous show business stars, politicians and businessmen, artists and other famous people of Argentina.
Villa Gesell is created for young people. These beaches offer their guests all the necessary facilities for a beach holiday, and at very reasonable prices. A large number of discos, nightclubs, and comfortable accommodation make this resort a lure for young people from all corners of the earth.
Finally it should be added that most of the beaches in Argentina offer a really high-quality vacation that is sure to bring a lot of positive emotions and impressions.
Photos beaches of Argentina