Argentina Kitchen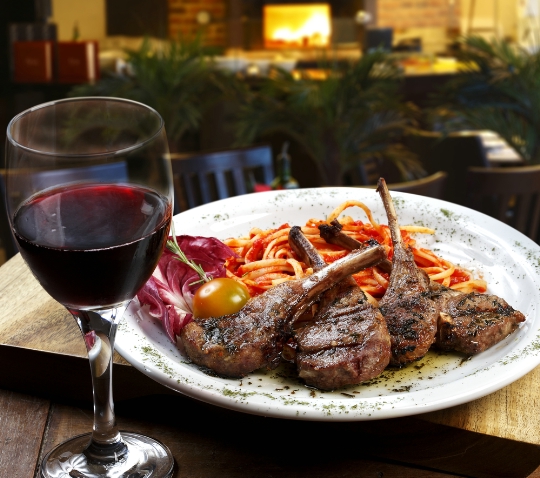 The kitchen is Argentine motley mix of national, Creole, African, Spanish and Italian gastronomic traditions.
National cuisine of Argentina
Argentina Business Card - beef: from it make a fine chop "Milanese"; stew of beef and corn "Locri"; meat with blood "YUGOS". In addition to dishes of beef in the country are widespread and others - in the form of a chicken in beer stew armadillo roasted meat "visachi" (local rodent similar to a chinchilla), "sharp" oysters, smoked eel. In addition, some of the dishes are prepared with meat ostrich rhea and emu. If we talk about the vegetable dishes, the popular Argentina stew of vegetables and cold soups of the grated tomatoes and cucumbers. A local feast is candy Argentine ice cream "Helada", roasted nuts in sugar, sweet banana rice, fresh and candied fruit.
Popular Argentinean cuisine:
"Matambre" (beef roll with egg and vegetables);
"Vasio" (fillet of beef, grilled);
"Poucher" (meat chowder with vegetables);
"Clafoutis" (chicken with cheese and olives);
"Empanadas" (pies stuffed with meat);
"ALFAJOR" (cake with caramel drizzled with chocolate).
Where to try the Argentine cuisine?
As in Argentina, many prepared foodson the grill, the travelers on practically every corner of the restaurants meet "churraskarii" and "parilyada", specializing in dishes prepared in this way. It is worth noting that in Argentine restaurants offer to taste delicious wine (Argentina preserved the unique grape varieties).
In Buenos Aires, you can eat in "La Esquinita"(This restaurant specializes in Argentinean cuisine, where dishes are prepared on the grill, visitors are offered to taste chicken wings, fish, vegetables, seasoned with aromatic spices and roasted on the grill, and a wide variety of wine list will complement perfectly available), and in Mendoza - in "Ocho Cepas" (in addition to the Argentine dishes here, guests can enjoy the presence of the wine cellar, which means that they will be served a vintage Argentine wine if desired).
Cooking classes in Argentina
Would you like to cook their own cakesArgentine empanadas and roast meat? To carry out his desire to succeed you on culinary courses "Cooking with Teresita" (Buenos Aires). A final part of the training will be a banquet and tasting of local wines.
The trip to Argentina, it makes sense to podgadatholding lamb Festival (Posuelos, January-February) and gastronomy Week (San Salvador de Jujuy, August), when the participants of the event will have the opportunity not only to taste the national dishes, but also to prepare them.
Photo