Argentina Resorts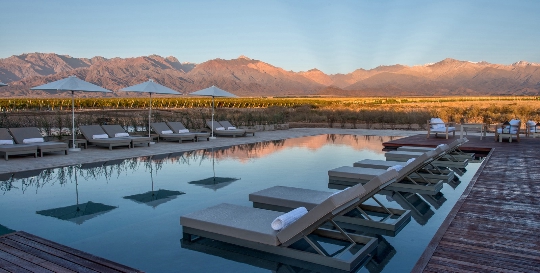 The country, which is clearly heard the name Silvernotes appear in South America the most "European". The complicated history of its conquest stores grisly details of destruction of local Indians, but because the people in today's Argentina have only European appearance. The local wines are not inferior to French or Spanish, and favorite activities of tourists in cities and resorts of Argentina - the search for the steak of your dreams and participate in the tango lessons on the streets. The rest of the holiday is not very different from the classic in any decent resort world - beaches in the summer, guided tours in any season and an excellent ski resorts in the winter.
In the rhythm of tango
The fact that the dance of passion it appeared inArgentina is well-known people, even very far from art. In the middle of the XIX century was a lot of pair dance men, and only years later, Argentines have decided that the lady greatly beautify dance composition. Since then, tango dancing in the silver country virtually anytime, anywhere - right on the squares and streets of towns and villages, in nightclubs and restaurants, professionals, amateurs and just passers-by.
The resort of Argentina, where life boils twelvemonths of the year, the tango is loved and respected. In the city of Mar del Plata this kind of dance gladly show visitors a spectacular show in the Theatre Colon and just at midday urban areas.
In addition to dance the famous resort of Argentina may beboasts excellent beaches, where no room to swing fall, and great restaurants where you can and should try the best local cuisine from December to the end of March. In addition to traditional summer beach activities in Mar del Plata adopted:
Visit the casino, which opened its doors in 1939. Its building - the local landmark, however, is the ability to break a big jackpot gambling attracts people is not less than the mansion architecture.
Spend an evening at the theater Colon, where the daily dance performances are held with the participation of the country's most famous dancers.
Take surf lessons at local beaches. Season practicing this sport, if the suit is much longer than just beach-bathing.
For sports and active
The ski season on the slopes of Patagonia runs fromJune to late September, and in this sense, Argentina resorts - a real find for the Russian travelers, who even in the summer dreaming of snow-covered slopes. Trails are laid for athletes of different levels of training, lifts - one of the best on the continent, and is easy to choose a hotel, even those who are not used to pay for the rest.
The most popular ski resorts in Argentina - Cerro Catedral, Las Lenyas and Cerro Bayo.
Photo