Skiing in Argentina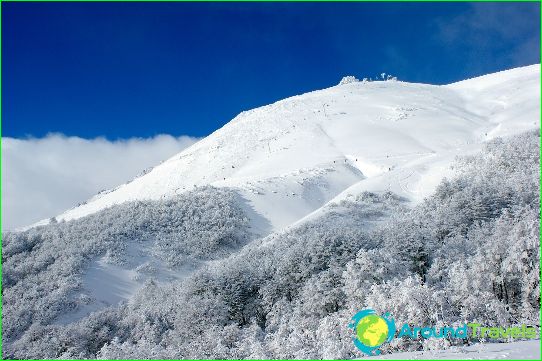 Ski resorts in Argentina - a great opportunity to enjoy your favorite winter sports ... in the summer. As situated in the southern hemisphere winter the country is in June - August.
The equipment and lines
One of the most popular and largest skiArgentina resorts - Las Lenyas. international experts believe it slopes perfect for winter holidays due to special climatic conditions. The bulk of the runs at the resort is suitable for athletes training of middle-level, but there are slopes for pros and beginners. The longest trail - semikilometrovaya and for night skiing fans equipped with two kilometers of illuminated slopes. Maintain adequate snow cover to help the gun, but attractive for snowboarders Las Lenyas makes a great snowpark with figures and half-pipe. For beginners, the resort organized by the school, which instuktory not only give lessons, but also offer individual guides. For fans of off-piste Las Lenyas offers by helicopter to untouched slopes and descents on virgin snow.
Resort Cerro Bayo demonstrates not onlyexcellent groomed trails and well-developed infrastructure, and great views of the lake and the Andes. It is located in a wooded area and its 25 tracks are like and professional, and very green skiers. The resort has 12 lifts that can be delivered to the launch site about 7000 people per hour. A special pride of the Cerro Bayo - a children's club and ski school of art where even toddlers learn to successfully stand on the slope. Priority of this resort - children's rest, which makes it the most popular in Argentina at the family winter sports fans.
Cerro Castor - a place where the best skiing seasonlasting throughout the continent. The first start is given at the beginning of July, and provide a comfortable ride to mid-October. Moreover, Cerro Castor - the southernmost resort on the planet, only 25 km separate it from the southernmost city in the world.
Activities and excursions
Ski resorts in Argentina - it's a greatan opportunity not only for sports, but also to relax after skiing. Restaurants and night clubs, discos and bars - in hotels all the conditions for a wide range of leisure activities. Popular with tourists to enjoy excursions to the Museum of the history of the valley of Mendoza, and horseback riding. It is possible to go climbing, leave hiking on snowshoes or relax in the sauna or spa.
Photos of the ski resorts in Argentina