Airport in Yerevan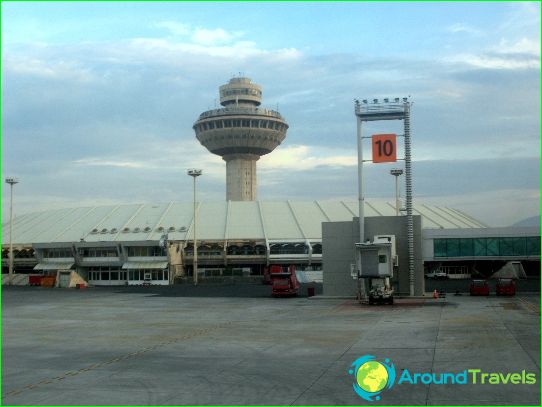 In the city of Yerevan there are two airports:
Airport "Erebuni" Yerevan - EnterpriseUse the adjacent located seven kilometers south of the city center. It is used for the reception and maintenance of military aircraft and is engaged in parallel civil transportation. Namely - the implementation of charter flights within the country and the CIS countries.
The international airport in Yerevan "Zvartnots". The airline is in 12 km from the city towards its western part and considered a transit gate, connecting Europe and Asia. The length of its runway is 3.8 kilometers, which allows the company to take on any type of aircraft. Passenger traffic Airport is more than 3.5 million people a year. The greatest number of flights served by the airline Air Armenia.
History
The first passenger air transport ofYerevan accounted for in 1980, when the new airport "Zvartnots" was launched. It carried out daily flights to Moscow, St. Petersburg, Sverdlovsk, and in the 50 cities of the Soviet Union.
In 2001, the "Zvartnots" was leased ArgentineAeropuertos Argentina airline for up to 30 years. The company has made significant at the airport reconstruction. To date, the airport terminals usable area of ​​nearly 34,000 square meters, more than half of which covers parking.
In January 2013, the airport in Yerevan was awarded "Best Airport of CIS and Baltic countries" in the contest "Airports of developing countries."
Tools and Services
Yerevan Airport provides passengersa full range of services that meet the requirements of international standards. The airport posted the arrival and departure areas with comfortable waiting rooms, registration points with the use of interactive technologies, mother and child room, medical center, luggage storage. Work ATMs, post office, on the entire territory of the new terminal with free internet access. Opened duty free shops, restaurants, cafes, packaging items of luggage.
Transport
From the airport to the city run regularly buses pas routes №17 and №18. Travel time takes only 30 - 40 minutes. At the same routes shuttle vans.
You can use the services of a city taxi, which can be ordered from the transport company stand in the terminal or on the phone.
Moreover, the airport operates service car rental services.
Photos Yerevan Airport