Yerevan District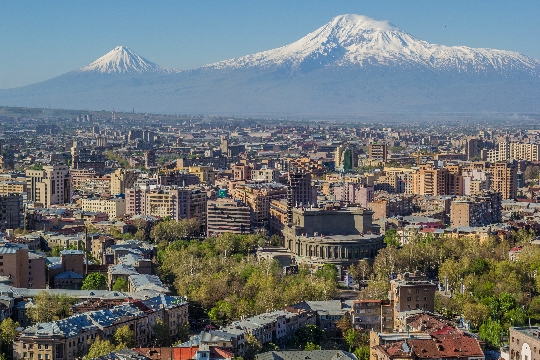 Yerevan District share the capital of Armenia on 12districts, which include numerous quarters. By areas include Yerevan Davtashen, Arabkir, Erebuni, Avan, Malatia-Sebastia, Nubarashen, Nork-Marash, Shengavit and others.
Description of the main areas and attractions
Kentron: travelers should go on a tour of the Republic Square to inspect the Government House; visit the museum complex, which is located the Museum of History of Armenia (stores 400,000 items related to ethnology, archeology, numismatics) and Gallery (you can see more than 60 paintings by Aivazovsky); admire the beautiful fountains and street lamps; otovaritsya market Vernissage (great place to buy souvenirs in the form of scarves, figurines made of wood and ceramics, paintings, carpets). And if you want you can walk along the avenue, on the opposite side of the museum complex - there you can eat in a summer cafe and enjoy an artificial pond with more than 2,000 fountains.
Achapnyak: guests of Yerevan will be interesting to visit the recreational area in the area - there they will find a pool (with an area - 3000 square meters), 3 attraction, indoor and outdoor gazebo and a sports field.
Kanaker-Zeytun: interest Victory Park - where you can see and to photograph the monument "Mother Armenia", go boating on the picturesque pond, admire the beauty of the city in great detail, looking through a telescope, located in a special area, and a ride on one of the rides.
Nor-Nork: interesting thanks to the Saint Sarkis Church (in spite of the long history, guests will see her new look - the reconstruction of the church was completed in 2000), the park Nansen (guests will be able to see a variety of sculptures, including Monument Ai explore the temple of the Blessed Virgin and to look into a museum Nancy), Yerevan zoo (his visit suggests an opportunity to see more than 2,700 animals and explore the unusual sculptures, such as a blue elephant from plastic bottles, the youngest guests will be delighted by their assigned here carousels; and visiting the zoo during the holidays, guests will visit a show with clowns and puppets) and a water park (visitors will be able to try their hand at one of the 7 water slides).
Where to stay tourists
Tourists are best to stay in the centerThe capital of Armenia - in the area of ​​Kentron: there is a quarter and Conde, along the streets of the walk which will help you understand what the Old Yerevan, and the area inundated cafes and entertainment venues. Good and cheap hotels can be found near Nork-Marash.
Photos districts of Yerevan