Yerevan - the capital of Armenia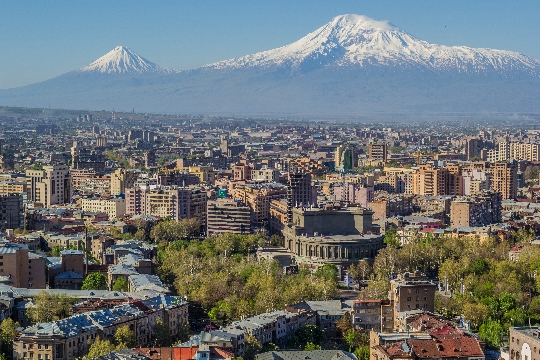 About beautiful Yerevan residents heardthe former Soviet Union. Many of them have visited the city before, others are only now going to open its sights for yourself. The capital of Armenia is always hospitable and generous to each guest.
Armenian feast
Perhaps that purpose they serve gourmetmany travelers gather in Yerevan. Where else can you try a real barbecue, cooked by one of the old local recipes and a tasting of the Armenian brandy, which you can not compare the quality with one of those drinks that are sold at home tourist.
And very closely related to Armeniansguests and in the sense that they are ready to offer national dishes and neighboring and distant exotic countries. This is especially important for those guests with some caution taking unfamiliar foods and beverages.
Yet, resting in Yerevan, it is impossible to give up delicious national dishes to choose from:
khorovats - locally called the barbecue;
khinkali - familiar to all dumplings;
dolma - stuffed cabbage, only beef wrapped in grape leaves.
Here a rich selection of alcoholic and nationaldrinks in the first place - the famous brandy, followed by grape wine "Old Yerevan". The range offers a variety of fruit vodka, including those of exotic mulberry.
Yerevan city tour
Do not take the card, it is better to apply to any local resident, he was happy to tell and show the most famous places of the beloved city.
Most likely, the tour will start from the ruins of the fortressErebuni - this is one of the most important historical sites of the Armenian capital. Strength refers to the ancient culture of Urartu, it is the best preserved of similar landmarks. Description of the fortress and its main buildings can be found in the Erebuni Museum, which is located at the foot of the hill. His exhibition features many artifacts found during the excavations in the vicinity of the monument.
Important monuments - this is Yerevanplaces of worship, including the most famous - the Church of St. Hakob Church of the Holy Katoghike and the Blue Mosque. Among the architectural monuments of the capital in the photo with tourists are the Government House, Museum of History of Armenia, the main post office.
Another amazing place - Abovyan street, where next to the building next door to the neo-Moorish style, as well as prominent representatives of such artistic movements as Art Nouveau and Art Nouveau.
Photo