Yerevan Metro: map, photos, description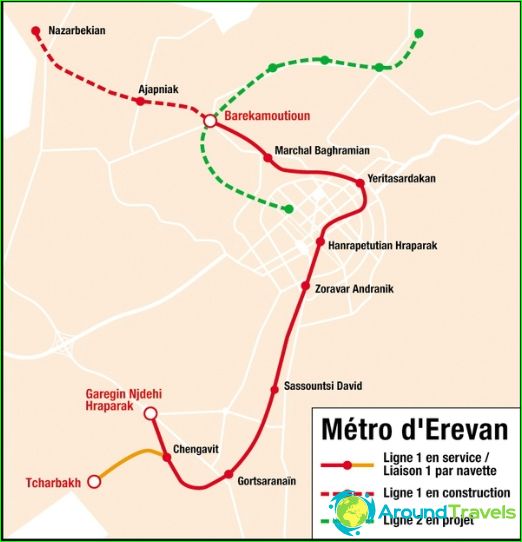 Yerevan Metro named after Karen Demirchyan andIt has a total length of 13.4 km. Three of its stations are land-based, one is a single-vaulted shallow station, the other six - deep foundations. The day of Yerevan subway carries about 40 million passengers. Her first line was opened in 1981. Yerevan Metro has a total of ten stations that are on the same line. From it is an offshoot of the depot Charbakh starting at Shengavit station.
The history of the construction of the Yerevan Metro launchedin 1972, when it was planned to create in the capital of the Armenian SSR Metrotram. It was supposed to be above ground rail transport, underground type, a kind of light rail to transport passengers in the city. During construction, the project changed, and it was decided to build a full metro.
Development of the project revealed many problems,associated with a particular terrain, which is located in Yerevan. The construction of plants is often accompanied by the emergence of new design solutions and engineering ways to perform some of the work. Stations opened gradually, and become the very first "Friendship" and "Marshal Baghramyan".
Today the Yerevan Metro has signs andpointers made in Armenian and Russian languages, and all audible announcements on trains and in stations are done only in Armenian. Schemes of metro stations located inside cars are also made in the Armenian language. Logo Yerevan Metro is the letter of the Armenian alphabet, which corresponds to the "M" in the Cyrillic alphabet.
Hours of Yerevan metro
Most of the subway stations of YerevanIt opens to the entrance of passengers 6.00. Finish work on all stations at 23.00. Motion interval compositions - eight to ten minutes depending on the time of the day.

Tickets for the Yerevan Metro
In times of the existence of the Armenian SSR paymentDirections to the Yerevan Metro was, as elsewhere in the country, 5 kopecks. Today the cost of one trip, approved July 1, 2011 is 100 drams. This is equivalent to about 0.24 US dollar.
Price travel on the subway equals the cost of servicestaxi, which drives up the passenger in the right spot and stops on demand. So wishing to take advantage of the Yerevan subway today is not so much, it is considered a loss and the prospects of its existence are estimated to be very vague.
Pictures of Yerevan metro