Shops and markets in Yerevan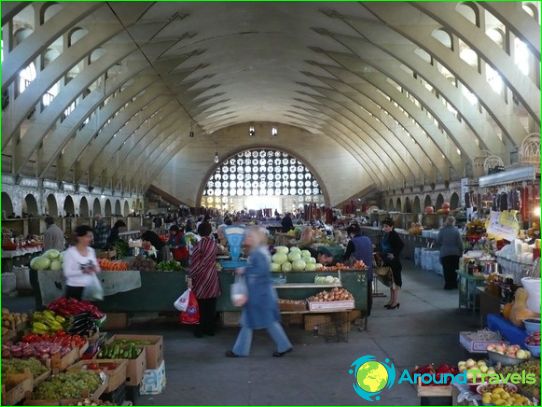 Yerevan - the capital of Armenia, welcoming, shoppingkulturny and center of the country. The main monuments and museums are concentrated in the city center. Here you can find shopping malls, markets, fashion boutiques, souvenir shops - everything that can be the starting point for shopping, jogging tired of cultural tourist experiences. Standard in the city several shopping centers. They are a good selection of European products and reasonable prices.
The shops
Carpets - the national pride of Armenia. When factory Mergeryana a shop, where you can select something to decorate your home. Exclusive product offers shop "Tufenkian Carpets" on Tumanyan street. In addition to ready-made carpets, then you can order a masterpiece of your outline. Check the label and be sure to save to customs are not puzzled about the historical value of your "souvenir". Carpets with a touch of time can be purchased in antique shops in the city center or in the market, "Vernissage". For the export of such purchases special certificate is required.
Sarkis Kazanjian and Sons - this is not a separatea music store, and a representative network in Armenia. He appeared in Armenia at the beginning of the development of trade musical instruments in the country. Here you can buy acoustic and electronic guitars, accessories and spare parts, drum kits, tutorials for playing various instruments. This family-owned company is the official representative for the sale of the most recognized manufacturers of musical goods. Located on Saryan Street.
Friends are unlikely to understand if it turns out that aboutChief Armenian souvenir - brandy, you forget. Armenian wines and brandies can be purchased at any grocery store, and it is most convenient in the area of ​​the duty-free airport.
markets
The market "Vernissage" is located near the squareRepublic. It works on weekends. This is a good place to purchase paintings by contemporary Armenian artists, souvenirs and antiques. The authorities claim that they control the process, and for the quality of the local masterpieces do not worry in recent years. Grinder copper two centuries ago would not a modern forgery, and the picture will be executed master's hand, and will be dated accurately. Here you can buy costumes, painted plates, wooden backgammon and other products of Armenian tradesmen.
Central Yerevan Market, it is calledTashir, is located in Mashtots Avenue, next to the Blue Mosque. The room under the trade was built on an individual project in the Stalin era, and worthy of careful consideration. Farmers dumped here the fruits of his labor all year round. It is vegetables of fruit, different salinity Armenian cheese. Visitors are primarily interested in sweets: dried figs, peaches, lemons, churchkhela, fruit juice, dried in a special way in the sun and turned into a thin plate of delicious gummy.
Shopping centers
Shopping center "Tashir" is located on Khorenatsi streetcity ​​center, near of the same market. Opened in 2004 after the reconstruction of the Yerevan Central Department Store. It can safely go to the whole family. A children's play area, by combing the shops you can relax in the coffee shop.
Dalma Garden Mall - a large shopping mall. For a comfortable shopping it all there. The center is designed in accordance with modern trends, thought out schemes entrance and exit, parking, the building itself is bright and spacious with an interesting design. Here you will find a wide variety of shops, cafes, restaurants and other entertainment. Located on Tsitsernakaberd highway near the stadium Hrazdan.
Photos Yerevan stores