Yerevan streets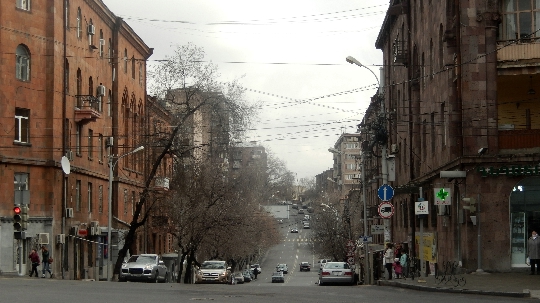 One of the oldest cities in the world is considered to Yerevan. It is the capital of Armenia, which is located in the central part of the Ararat Valley. Previously, the city was called Erebuni. Today the city is the largest center in the Caucasus. Yerevan is decorated with lots of attractions, among which are various monuments and memorials.
The picturesque area of ​​the metropolitan area is considered to be the main. The main objects of the Republic Square: Foreign Minister of Armenia, the Central Post Office, History Museum, the hotel "Armenia".
Yerevan Center
The central part of the city - a street withoffices of banks and popular shops. Crowds fill the center during national holidays. Among the main streets noteworthy Abamyana street and Mashtots. Along these streets are the city's main institutions.
Motorways and main streets are locatedradial-ring scheme. Therefore, in Yerevan it is easy to navigate the terrain. The main part of the city characterized by a unified architectural concept. Buildings are made in the style of neo-classicism and Constructivism. The city center is a ring of streets Saryan, Karmir Banak, Khanjyan and Moskovyan. A ring of major motorways: Abovyan Street, Teryan, Tumanyan, Sayat-Nova. Along the streets and Moskovyan Khanjyan stretches a beautiful boulevard.
The city's area within the ring is about3.8 sq km. Here are concentrated the capital sights. Many of the streets of Yerevan are of little length and beautiful design. Houses on them are made of natural stone tuff. Courtyards are distinguished by the presence of arches.
Abovyan Street
The street is named after Khachatur Abovyan -thinker of the 19th century. Previously, she was known as the Castle and Astafyan. The street runs from the complex to the Museum Square with the monument of Abovyan. Districts here look very original: the house of the 19th century, side by side with modern buildings that host entertainment venues. This beautiful street in many famous restaurants and cafes. The most interesting and the oldest building in the city is in place Abrahamyan and Pushkin streets intersection.
Prospect Mesrop Mashtots
This is the main road of Yerevan, which takesHaghtanak beginning near the bridge. At the very beginning of the street you can see the church of Surb Sargis, built of pink tuff. Next are Covered Market and Blue Mosque - the only functioning mosque in Armenia. On Mashtots Avenue arranged entertainment, restaurants, theater, Center of conceptual art, the Opera House and other facilities.
Pictures of Yerevan streets