Water parks in Yerevan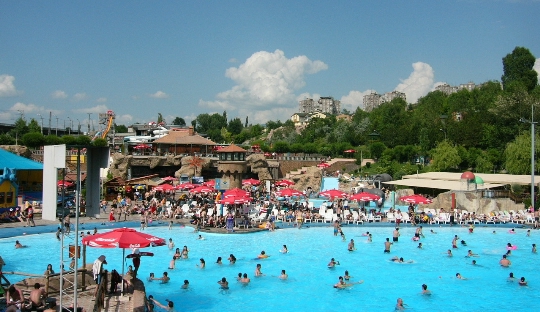 Going to devote summer vacation holiday in Yerevan? Escape from the hot days and fun you will manage a group of friends or family at a local water park.
Water Park in Yerevan
Yerevan you will meet its water park "Water World"(Its territory is stylized mountain river with rapids, and along its banks established site for guests), where you will have to wait: Slides (7); swimming pools (4), jacuzzi, underground sources; bungee jumping; children's water rides and games area for entertainment; restaurant and cafe, which menu you can find dishes of Armenian, Russian, Asian and European cuisines. In addition, there is a car park, medical center, showers, changing rooms, lifeguards and instructors. And the evening program will delight guests passing here discos, laser show, live music.
Entrance fee: adult ticket for the whole day is paid at the price of 8000 AMD and child (growth of 90-120 cm) - 5000 AMD. With regard to children, the growth of which less than 90 cm, they can stay in the water park without any surcharges.
It is worth noting that the "Water World" is open to the public from 1 June until mid-September.
Water Activities in Yerevan
While in Yerevan, to visit the dolphinarium"Nemo": here you can swim and take pictures with the dolphins, take a course of dolphin (the perfect choice for parents whose children have a variety of developmental disorders, and those wishing to improve their health, which is particularly important for people exposed to chronic stress), as well as to order the service by entitled "Diving with dolphins".
In addition, the "Nemo" offersattend the 40-minute show-program (the show includes not only entertaining, but also informative part - will tell you about the life, customs and tastes, the animals are here), the main role in a given Pacific white-sided dolphin (they perform cool tricks, singing, dancing paint a "play" in football), as well as fur seals (they dance and juggling).
Pricing information: Swimming with dolphins - 5000 AMD / 1 lap + photo and AMD 1000/3 laps; photo shoot with animals - 3500dram / 3 photos; representation on weekdays - 2500-3000 AMD, and on weekends - 3500 AMD; Romantic night show - 4500 AMD.
Travelers rest in Yerevanbe sure to take a trip to Lake Sevan - swimming here is best from mid-July to late August: here you will find sandy beaches (sometimes pebble can occur). In addition to passive recreation, Lake Sevan is perfect for diving (on the coast you will find training and equipment hire), windsurfing and kitesurfing. In addition, you will be offered to participate in the tour of the lake on the ship "Kilikia".
Photo