Zoo in Yerevan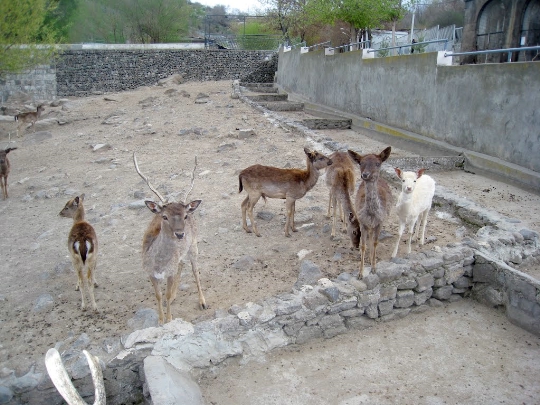 Zoo in Yerevan
The first visitors in Yerevan Zoo took in1950, and its construction began in 1941, before the Great Patriotic War. Today Yerevan kids favorite park boasts more than 2,700 lodgers, representing 300 species of mammals and reptiles, birds and insects. About a hundred thousand people a year come to the zoo of the Armenian capital, where you can see, and familiar animals of the Caucasus region, and representatives of exotic zootsarstva other climatic zones and even continents.
Yerevan ZOO
Zoo in Yerevan name - it is not just 25hectares of land inhabited by animals. It is accepted to spend a weekend, organize family events, observe the habits and behavior of pupils. On weekends, the park are the clowns and heroes favorite cartoons, and on specially equipped playgrounds kids have fun on the swings and roundabouts.
In the zoo of Yerevan are encouraging children's creativity - original sculptures made kids from a variety of materials at hand.
Pride and Achievements
In the park you can admire the Armenian capital onwild cats - jaguar and black leopard, deer admire the grace and ingenuity monkeys, take a photo at the open-air cages with Lama or wolves. Hulking giant elephant coexists here with lazy hippo and good-natured bears - with Armenian mouflon mountain.
The organizers are proud of a rich collection of birds and insects, and the park is often held school lessons zoology outdoors.
How to get there?
The exact address of Yerevan Zoo - Myasnikyan St., 20 Building, 0025, Yerevan, Armenia. To get to the favorite place of family holidays the capital's residents can be on several types of urban transport:
The buses 38, 40, 41, 51, 54, 35, 17.
On the trolley 1.
In the taxi 20, 81, 55, 69, 261.
From located near the metro station at ul. Isakyan, 35 stop "ZOO" in the direction of the zoo special buses depart every hour. By purchasing a ticket on them, you can avoid the queues at the ticket counter of the park - a travel already includes input costs. First flight - in 1230, the last - in 18.30.
Helpful information
Hours of Yerevan Zoo:
On Monday, the object is open from 11.00 to 19.00.
The rest of the week - from 10.00 to 19.00. Ticket office open until 18.00.
Ticket prices in Yerevan Zoo depends on the age of the visitor:
Children's ticket for visitors from 3 to 15 years is 500 AMD.
Adult visitors from 16 to 69 years - 800 AMD.
Kids under 3 years old are entitled to free access to the zoo.
For families with children there are discounts, as well as for seniors and persons with disabilities.
Photo in Yerevan Zoo can be done without restrictions.
Contacts
Details on the work of the park are available on the official website - www.yerevanzoo.am.
Phone +374 10562362.
Photos Yerevan Zoo