Traditional cuisine of Armenia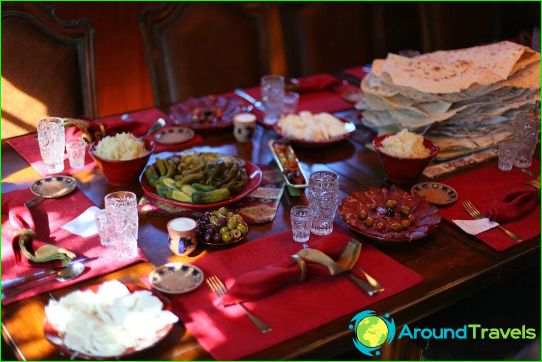 Armenian dishes are a useful and healthy food. In Armenia, you will have the opportunity to taste a variety of cheeses, cold meats and a great cognac.
Food in Armenia
Diet Armenians make fruits, vegetables,meat, herbs and spices (pepper, oregano, basil, coriander, thyme, tarragon), cereals (dzavar, achar), pita bread (based on it do a variety of snacks and other culinary masterpieces).
From meat Armenians prefer to cook beef andlamb: their favorite meat delicacies are kyufta (meatballs), mozhozh (pickled pigs' feet), basturma (dried meat), kebabs, soups, meat broth.
Matsun - an important component of the Armenian cuisine: on the basis of this fermented milk product Armenians summer okroshka prepared, and in the winter - a thick soup warming (saved).
Armenia should certainly tryfried chicken with eggplant, dolma, kutap (oven-baked trout, pre-stuffed with ginger, rice, raisins), assorted vegetables and a liver, a variety of rice, which complement the smoked fish, dried fruits, pomegranate, various soups (rice, mushroom, chicken) .
A sweet tooth should try halva, dried fruit, baklava, puff cakes with fruit fillings.
Where to eat in Armenia? At your service:
cafes and restaurants where you can order dishes of Armenian, Georgian, Chinese, Arabic and European cuisine;
snack bars.
Drinks in Armenia
The most popular drinks are Armenian matsun(A type of yogurt), Thane, mineral water, coffee, tea from the dried herb thyme, peppermint, St. John's wort, brandy ( "Shiraz", "mane", "Ararat", "Great Valley"), vodka (cornel, apricot, mulberry, cranberry), wine.
Cognac in Armenia drink at any time of day or night - it is perfectly suited to any dish, but the most ideal "complement" to the Armenian cognac is chocolate, coffee, large grapes.
Gastronomic tour in Armenia
The gastronomic tour you will visit Armeniaon the brandy factory "Ararat" (here you will taste the cognac), dinner in the restaurant "Ararat Hall" (where you can not only taste the national cuisine, but also to visit the master class, which will hold for you the chef of this restaurant), visit the winery "Noah", visit the temple of Garni, where you will learn to cook a pita - Armenian national bread.
If desired, you can go on a tour, involving accommodation in a boutique hotel, visit the best restaurants and practical tours of the wine cellars of the country.
Wine lovers can go to the village of Areni -Here everyone will have the opportunity to visit the oldest winery in the world, as well as taste and purchase wine by the glass apricot, cherry, pomegranate, grape wine drink with amazing taste.
Culinary tour to Armenia will give you experience, which you will never forget.
Photos national Armenian dishes