Holidays in Armenia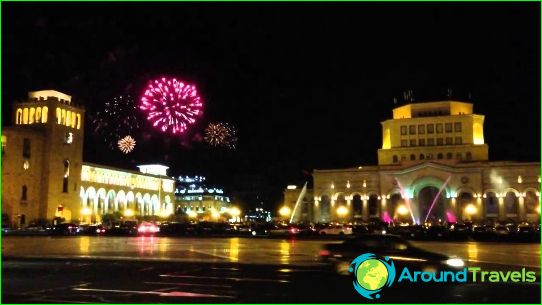 Holidays in Armenia, in particular, religious, marked widely and in compliance with the traditions.
The main celebrations of Armenia
New Year: on the night of January 1, Armenians mark Amanor (New Year) in the circle of relatives and friends. On the festive table exhibited traditional Armenian brandy, wine, sweets. At the table no one ever misses - Armenians communicate and listen to traditional and modern Armenian songs.
Christmas and Epiphany is celebrated on the same day: evening of January 6 believers sent to the church to light a candle, and then they carry it home for the sanctification of his house. On the morning after the service in the church, believers bring home the consecrated water there (to the baptismal water made treated as a shrine because it has healing properties).
Vardavar: this cheerful holiday decided to pour water all in a row, regardless of age and social status (no one at no one is offended, because on this day the water is endowed with healing powers) and go on picnics. In addition, in honor of the holiday organized festivities with songs, dances and games.
Armenia's Independence Day: September 21 is celebrated widely and colorfully - across the country are organized celebrations. In Yerevan Gregory the Illuminator Church conducted a solemn service, held at the Republic Square military parade and in the evening there are organized concerts, laser and light show, and at the end of the holiday fireworks in the sky runs.
Event tourism in Armenia
Fans of event tourism should know that,usually in the spring in many cities of Armenia hosts music and cultural festivals, and in the summer - in almost all areas carried out traditional and modern festivals. Do not miss the chance to attend the festivities - plan to travel around the country at this time.
So, in October in the village of Areni (Vayots Dzor region)You can visit the Wine Festival - this time you can see performances of music, theater and dance groups, participate in contests and national games, and also taste a variety of wines.
And in September (Akhtala, Lori region) can takeparticipated in the celebration of the festival barbecue. It brings together chefs, that the audience put their skills into practice Barbecue (in the classic recipe they introduce new flavors). Naturally, the festival ends with a delicious tasting.
In addition to numerous events in Armenia yearly festivals, in the celebration of which is to participate during the rest of the country.
Photo