Armenian Railways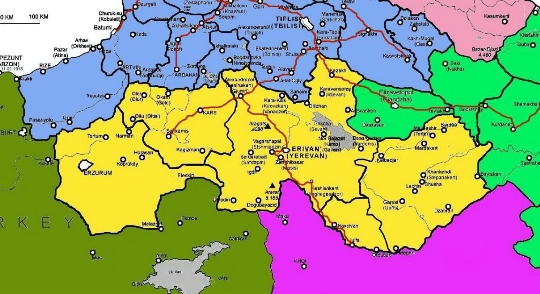 Railroads are ArmeniaSouth Caucasus Railway (a subsidiary of Russian Railways). Armenian railway network is used for both passenger and freight traffic. passenger transport occurs on commuter trains and long-distance trains. Railroad tracks countries have total length of about 725 km. Armenia is deprived of access to the sea and is located partly in the mountainous region. Therefore, w / d message is crucial for the economy of the state.
Characteristics of the railway sphere
On the territory of Armenia, located 69 operating4 and inactive station. The railway network fully electrified. Rail transport does not cover the entire country. The speed of movement is second aviation and road transport. The main train route passes through Yerevan - Vanadzor, Gyumri and through the city of Echmiadzin. Armenian Railway compositions differ considerable wear and tear. The country is still not complete high quality w / a message. After the transition of iron roads of Armenia to the South Caucasus Railway, the railway communication reached a new level. Increased lift capacity and speed of the trains. About 80% of cars have been refurbished.
Existing terminals are in Gyumri, Yerevan andVanadzor. Earlier Armenian w / d line were running Trascaucasian railway. Partial lines management implemented by the Azerbaijani railway. At the moment a message with Azerbaijan is not supported. Acting w / d transition is stored with Georgia. Regular trains are moved from Armenia to Tbilisi and Batumi. The railway sector of the country is in constant development. Trains compete with cars and planes, while losing the last in many respects.
F / d routes
Trains from Yerevan to Vanadzor followed by twiceday. Trains go to Yeraskh Sevan and Yerevan in summer. From Russia to Armenia not direct trains. Travel is only possible with transfers, and its total duration is 4 days. The cost of a trip to this embodiment is comparable to the price of air travel. Train tickets can be purchased at the box office or online. The site of the South Caucasus Railways ww.ukzhd.am provides current routes and pricing information. Ordering w / e ticket online, it can be exchanged at the box office on the usual paper ticket. The most popular routes include Armenia in Batumi and Tbilisi. To enhance tourism opportunities being constructed branches for direct communication with Iran.
Photo