Armenian Cuisine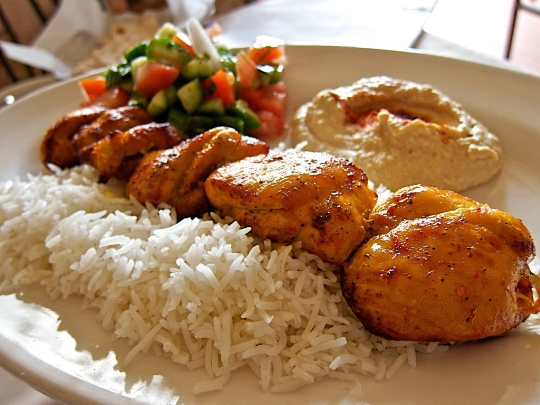 Cuisine of Armenia - is cheese, greens, herbs, spices (coriander, tarragon, basil, cardamom, cloves, thyme, fenugreek, saffron), meat, vegetables, pita bread.
National cuisine of Armenia
Armenia Business Card - "khorovats" (Armenianbarbecue), and its name depends on the method of preparation: for barbecue, which is prepared in a pan, called "hazani khorovats", and if on the grill - "Karsi khorovats". In general, meat dishes are treated with great respect and prepare the following specialties: "kyufta" (meat balls), "Kokolik" (round meatballs in broth), "dolma" (cabbage rolls, wrapped in vine leaves), "Aris" (porridge-like weight based on wheat and chicken).
A major role in the country is given milk drinksmatsun (if it is diluted with water to give tan): it is often the basis of soups, as well as it is made into cheese and cottage cheese. Among interesting appetizers is to provide "baskyrtat", presented in the form of slices of boiled beef (it is mixed with sour cream sauce and ground walnuts).
Popular dishes of Armenian cuisine:
"Tisvzhik" (a dish of beef heart, kidneys, lungs and fat with pepper, herbs, tomato sauce);
"Borane" (chicken, whole fried with eggplant and matsun);
"Hash" (soup made of beef or mutton on the legs);
"Bozbash" (a dish of lamb cooked with herbs and peas);
"Trout khorovats" (Sevan trout roasted on a spit).
Where to try the national cuisine?
Arriving in Armenia, travelers do not have toworry that they will be offered to eat spicy, fatty or harmful food (in Armenian cuisine there are no dishes), and so hungry and they can not stay under any circumstances!
In Armenian cuisine restaurants, they will wait and delicious evening with live music (musicians usually perform national motives).
In Yerevan you can visit the "Old Erivan" (gueststhen offer to stay in one of the 4 rooms, such as "Lights Erivan" or "Erebuni Erivan", enjoy Armenian cuisine, pleasant atmosphere and live music) and the "Ararat" (guests are treated to kyufta, cutlets "Gyumri" Hashem, a variety of kebabs , dishes from Sevan whitefish), and in Vanadzor - "Palma" (restaurant pleases visitors a wide choice of meat dishes of Armenian cuisine).
Cooking classes in Armenia
Would you like to take part in the culinaryfight? In Armenia, you will be offered together with the other participants to divide into groups to start preparation kyufta, kebabs, pita and other Armenian dishes (each team will have different recipes, which they will cook dishes under the direction of chefs masters). After cooking and serving, presentation of dishes will be accompanied by dancing under the national music.
A visit to Armenia is scheduled forholding wine festival (Areni, October), the Fish Festival (Abovyan, April), the festival of dolma (Armavir, May), Festival of honey and berries (Byrd, August), Festival of shashlik (Lori region, September).
Photo