Areas of Armenia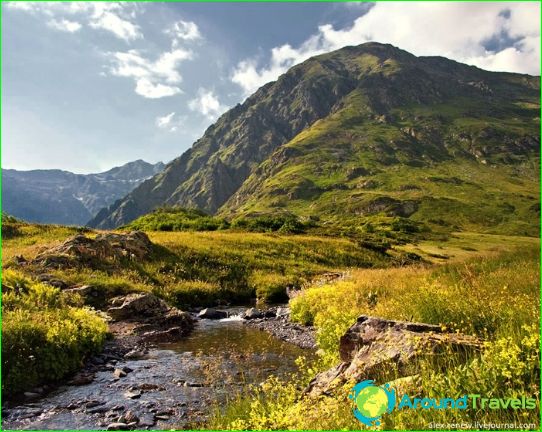 The country rocks and apricots call thisTranscaucasian republic for many years was part of the USSR, and in 1991 chose an independent path of development. The tourism industry in Armenia is only gaining momentum, but because not everywhere you can find comfortable hotels and other attributes of a developed infrastructure, honed under the immediate needs of travelers. But each region of Armenia boasts beautiful mountain views, springs with clean and healthy water, and even hospitable people, willing to refract the guest pita bread and share the table and shelter.
repeat the alphabet
The country has a unitary form of government inwhich all the region of Armenia are subject to a common central management. The country is divided into ten regions, and the eleventh subject is the capital. Areas called marz governors and the governed. Head of Yerevan is its mayor - a person chosen every four years by the Council of Elders, put forward by the residents of the capital.
The northernmost region of Armenia - Yerevan in the west,and Tavush and Lori at the border with Georgia. In the Ararat valley is famous the same name, offering magnificent views of the mountain, which proved the will of unjust historical destinies in Turkey. Armenians can now only admire Ararat and pray that historical justice has triumphed. In the most southern provinces of Syunik and Vayots Dzor are many ancient monasteries of Armenia.
"Give me wings ..."
... I asked God for a master who built the monastery of Tatev, and jumped off the cliff. Those who have seen it, a cry of horror was replaced by a sigh of relief. They witnessed a miracle: the architect flew over the mountains and disappeared into the bright blue sky Armenian. This beautiful legend came to life in the region of Armenia, entitled Syunik. In the IX century Tatev monastery through deep mountain gorge about 400 meters laid the world's longest cable car double reverse acting connecting contender for the title in the list of UNESCO world heritage village Halidzor.
Familiar strangers
For anyone who is interested in travel, the names of these objects on the map of regions of Armenia will be familiar:
Lake Sevan is not just occupies the second place in thethe list of the largest high-altitude lakes in the world. Ancient monasteries on its shores are able to decorate any photo album, and dishes of freshly caught Sevan trout are not prepared and is not served anywhere else on the planet.
Ski and climatic resort of Tsaghkadzor -region, where the air is saturated with ions in a special. Man gets long immunity to colds and Mineral adrenaline on the slopes of these mountains skiers adds cheerfulness and optimism for many days to come.
Photo