Shopping in Armenia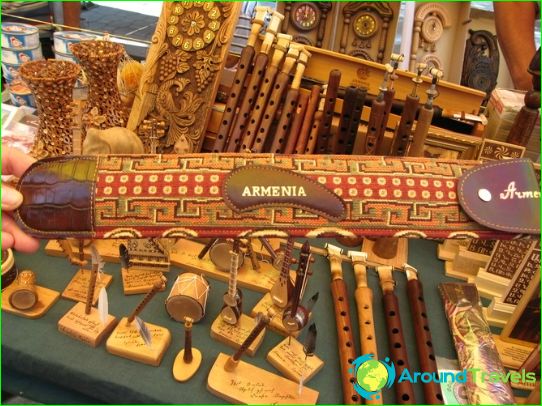 If you are traveling in Armenia, make sure you try the local cuisine, to communicate with people and want to bring home something reminiscent of holidays.
Popular shopping
Handmade carpets made of natural materialsbright patterns, tablecloths and linen in folk style handy lovers of ethnic souvenirs. Natural wool carpets are quite expensive, up to several thousands of dollars, there are fluffy and lint-free. If the carpet is cheap, it means synthetic.
In the markets, you will see and be able to buy paintings fromstone and wood depicting local landscapes, statues, various wooden ornaments and household utensils. Carved wooden boxes are often decorated with various metals and mother of pearl, images of plants and birds. The price varies, depending on the trim box.
Delight is a local pottery, widelyon the market. Many unglazed ware, different teapots, plates for cheese and khachapuri, pots and bowls. Separately standing kitchen stuff - salt shakers, pepper, container and spoon for spices, often in the form of a grenade, people, animals, these cute little things become a good gift.
You can get a stamping - plates, dishes, utensils, decorative items and women's jewelry - if you're interested, you can find a suitable object on the market and small shops.
Jewelry made of silver, gold, jewelry beads with silver distinguished elegance, unique design and takes joy recipient of such a gift.
Another local fishing - lace. The most expensive - made with gold and silver thread embroidery needle technique.
Wine and gourmet
Be sure to bring a real Armenian brandyand Areni wine. About wines worth mentioning that at the tasting at the factory, you can buy some wine varieties, in stores - are completely different, and in the stores do not have wines from the factory. The duty-free selling wines that are not available in stores.
You can buy homemade cheese, but it is better to do it as close as possible to leave because cheese can be stored for a long time is not, it becomes very salty.
Buy local sweets - halva home, doshab -boiled fruit juice, sweet suzhduh, baklava - should they try at least because they are made from natural products according to old recipes. From unusual dishes - stuffed with walnuts and honey tomatoes and peaches, many people like. You can also buy spices, dried apricots, grapes, prunes, and all that your heart desires.
It is worth noting that all the shopping is better to do in Yerevan, for example, in the Vernissage market, because in the province, in addition to products that can not find anything.
Photos of Armenian goods, shops and markets