A trip to Armenia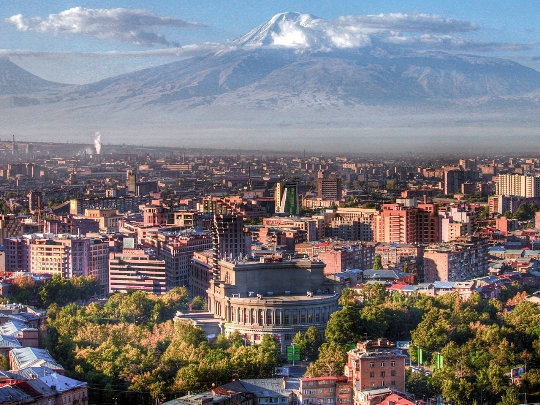 A trip to Armenia may become a real fairy-tale journey, and walking on the cable cars will be remembered forever.
Buses
The route network covers virtually all of the cityand towns of the country. That Bus - the most common way to get around the country. To get from a small settlement to another and may be on private buses. At this particular time origin do not exist. The driver sends the car after filling the cabin.
Car rental
Rental services are becoming increasingly popular. You can rent a car and drive it yourself, but if you want to with the car and you get another driver. The second option is more preferable, because the local population did not comply with the rules. And if extreme - it's not yours, it is not necessary to save and use the rental car service with a personal driver.
To rent a car you need to lay claim to, and have experience of driving at least one year.
Taxi
If desired, a taxi can be used not onlyas a way to get around the city, but also to make the move between the two settlements. If you wish to pay not, then you need to book a taxi by phone. In this case the operator should immediately clarify the cost of the trip, calling endpoint.
Cable cars
A stay in Armenia and not to ride on one of thethem - an unforgivable mistake. Tour price is quite accessible. Conveniently, that there are no traffic jams, typical for traffic of large cities.
Cable Yerevan road connects the capital with Norsk plateau. Route length - 540 meters. Today it is closed.
Cableway in Tsakhkadzor. Local route length of as much as 6 km.
Cable Jermuk city road is used for lifting the top of the mountain Shish.
The cable car connects the town to Alaverdi monasteries Haghpat and Sanaa. It is well-known tourist attractions, included in the UNESCO list.
The cable car connects the two villages: Tatev and Halidzor. It was opened in 2010 and is the longest.
Railway transport
The total length of railway lines - 830 km. A major area of ​​only one thing: Yerevan - Vanadzor. But trains on the route during the day twice. In addition, there are daily departures suburban trains on the route Yerevan - Yeraskh. The Sevan in the summer you can get there from the capital.
If you compare the travel speedtrains / buses and trains, is the last to go much easier. In addition, trains are worn out and need to be completely replaced. Quite often are even no windows. Such commuter trains run between Yerevan and Gyumri and Eraskhm.
Photo