Airports in Australia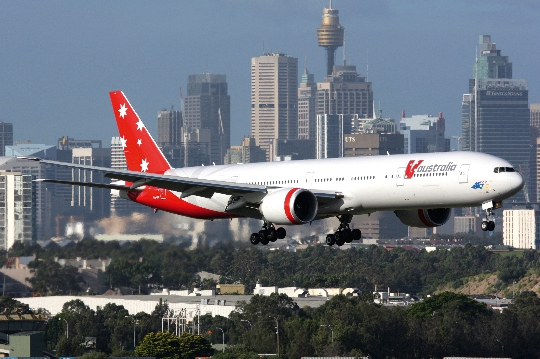 On the vast Australian territory locatedmore than 440 airports, of which the interest to tourists are about a dozen. All international airports in Australia are located in close proximity to major cities and each caters to 30 million. Per year.
International airports in Australia
Sydney Airport - the largest in the country bythe number of passengers. He called Kingsford Smith Airport, and is located ten kilometers from downtown. It has three passenger terminals, the international is separated from the two inner runway, which requires a sufficient lead time in the case of joining the organization in Sydney. Accepts flights absolute majority of the world's airlines. All useful information can be found on the airport's website - www.sydneyairport.com.au
Air gates of Melbourne are located in the suburbsTullamarine 23 km from the city center. It operates flights to almost all airports in Australia. This airport has repeatedly became the winner of the award for the high level of passenger service. To get from the terminal to the business districts of Melbourne can take a taxi or shuttle bus stop at the railway station of the Southern Cross, and all useful information about the airport is easily found on his website - www.melbourneairport.com.au
Australian International Airport 13 kmnortheast of Brisbane receives dozens of flights of all the major airlines in the world. In its international terminal there is room service Emirates Airline First Class passengers opened several restaurants and duty free shops. Flight schedules, transfer possibilities and features of the infrastructure available on the official website of Brisbane Airport - www.bne.com.au
The route from Russia
Pure time in the air, on the way from RussiaGreen Continent, usually equal to 20 hours, but the amount of time spent on the dock depends on the airline and selected Australia Airport:
In Sydney flying Emirates Airlines via DubaiSingapore Airlanes via Singapore. "Aeroflot" and "Australian Airlines," the Qantas combined with the Japanese with a connection in Tokyo, and Thai Airways and Korean Air fly with transfers in Bangkok and Seoul respectively.
In Melbourne you can get the same airlines, as in Sydney.
Airports Perth and Canberra are available from Moscow via Bangkok and Singapore.
Brisbane will be taken in the Thai and Korean Airlines,but the cheapest tickets may well be the airline Etihad Airways, flying to Sydney or Melbourne, which have seats on the plane of local airlines.
Photo