Beaches in Sydney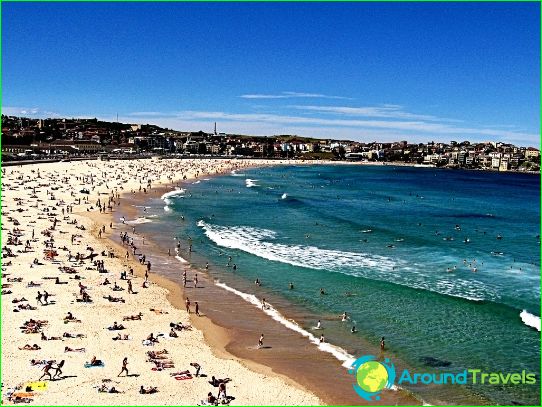 For domestic tourists is Australiasomething exotic because practically situated on the back side of the globe. However, those who still took a chance and visited the magnificent beaches of the Australian coast, were very pleased. A country with a mild climate year receives thousands of tourists from all over the world, warmly welcome each of these streets and bright smiles of locals. Sydney beaches attract tourists in the first place spotlessly clean with water and a high level of beach service.
The famous Manly Beach
The locals are very fond of Manly beach, sohere it is often so crowded that no room to swing fall. Most tourists, however, is not deterred. Manly Beach is located in the eastern part of the island and attracts tourists in the first place a good opportunity to go surfing and windsurfing. Also present offer a ride on a catamaran, a boat, a boat, kayak or go scuba diving. Prices for such services a little bite, but the impression that you're bound to get, cost a lot more.
Also on the beach are conducted historical tours,during which visitors will learn about the features of emigration in Sydney, its prerequisites and consequences. Manly Beach also offers a unique cycling tour, which will help well to explore the island and see all the local attractions. If you want to ride a bike alone, you can simply rent it.
On the territory of Manly Beach is available a variety of other original entertainment:
festival "Food and Wine";
surfing competitions;
monitoring the amazing life of whales and flying fish;
enjoying sunset view of the local observation deck and more.
The uniqueness of Sydney's beaches
Many vacationers seriously believe that the bestSydney's sandy beaches can not be competitive simply because there's nowhere better. All local beaches are located along the Pacific coast, which affect water clarity and transparency. In the southern and northern part of the coast is concentrated about 70 beaches, so guests always have a huge selection.
For example, a very popular beach of Bondi Beach,founded back in 1882. Of course, since he has changed a lot, and now this place is just perfect for lovers of extreme water sports and outdoor activities. The waves here are lower than in the southern part of the island, and in the water you can sometimes see the shark fins. Nothing to be afraid of - area for swimming shielded from oceanic predators, but for the safety of tourists watching vigilantly professional rescuers. Children will be happy dolphins jumping out of the water and adults can relax in a local bar or the recreational area.
Photos of Sydney beaches